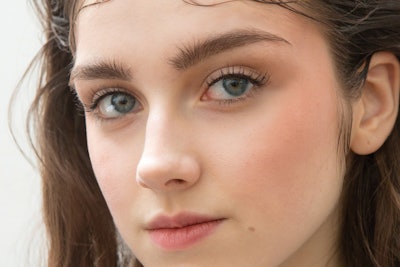 Bushy, full arches denote youth, and you'll always have clients who desire brows that shave off years. Helping your clients encourage healthy brow growth is just another way to expand on what you can offer your clientele. "Most people who have issues growing their brows can change one or two things and have great success," says Malynda "Boom Boom" Vigliotti, owner of Boom Boom Brow Bar in New York City. Not surprisingly, patience does play a big role in brow growth; she notes regrowth can take anywhere from three months to a full year to net the best results from a strategic brow growth plan. Here, she shares five items that need to be included on your clients' brow growth checklist.
RELATED: Lash & Brow Artists Name Their Favorite Tools
Nutrition - Fuel growth from the inside out with food rich in vitamins B, B1, B2 and biotin (found in dairy products, whole grains, vegetables, fruits and meat); iron (found in eggs, leafy greens, meat and fruit); and protein (found in meat, beans, nuts and legumes). "If your client's nutrition is good and her hair doesn't grow, recommend she sees her doctor to check hormone levels, thyroid function and stress as they can affect hair growth as well," she says.
Exfoliate - Try to keep skincare products clear of the brow area as they tend to clog pores in brows and affect growth. However, Vigliotti gives the green light to exfoliation as it "helps remove product buildup and promote circulation for growth," she says.
Be Gentle - A soft touch when applying makeup will help enhance thickness and density, according to Vigliotti. "Being rough can cause hair to fall out or break," she says.
RELATED: Casual Elegance at Arch Brow Bar
Brow Conditioners - Adding a brow conditioner (Vigliotti uses her Boom Boom Brow Job Growth Serum) to clients' beauty regimen can help nourish and strengthen existing hairs. "Most clients see success after applying twice a day for three to four months," says Vigliotti.
Self Control - Once you've put your client on a brow growth schedule, gently remind her to stick to it. That means no plucking or waxing—even stray hairs are off limits. "That stray could turn out to be a part of a newer thicker brow, so be careful!" she says. 
[Image: Getty Images]