From hot hues to front-line designs, the features showcased here are getting serious love from the lash industry.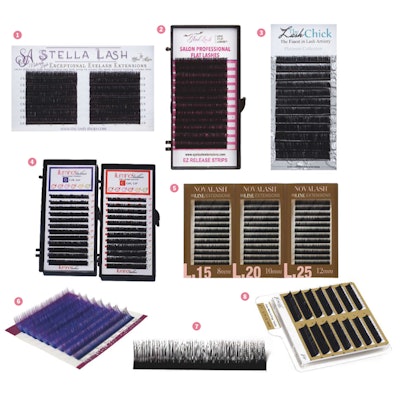 StellaLash Natural Lash Volume comes in 0.7 diameter C and D curls, and makes creating Volume lash fans easy thanks to the three different lash lengths on each strip. 
Glad Lash Signature Mink Lashes are made from luxuriously soft, natural-looking synthetic fibers and now come in ultrathin .03mm and .05mm diameters, perfect for Mega Volume lashing.
TheLashChick Platinum Silk Volume Lashes are ultrasoft, silky and light, and now come in L and L+ curls to help create a lift for even the shortest and straightest natural lashes.
Illumino Lashes Volume Eyelash Extensions are now available in a variety of diameters and curls, including .05mm and .07mm C and D (choose the red tray for C and the blue tray for D). Each lash strip is labeled with six color-coded lengths to help you stay organized and efficient.
NovaLash InLine L-Curl Extensions feature straight bases with angled tips that create a defined, upward lift, making them perfect for very short, straight or downward- pointing lashes.
PremierLash Color Match Lashes are made from exclusive, premium fibers for maximum softness; are heat-treated for unparalleled curl retention and uniformity; and come in a variety of curls, lengths, diameters and hues (shown here in Blue Violet Ombre).
Borboleta Beauty Skyline Eyelash Extensions have multiple lengths on each strip designed to give texture to sets when fanning and come in Volume diameters only.
Xtreme Lashes by Jo Mousselli Faux Mink X-Wrap eyelash extensions feature an interlocking "X" shape that allows the extension to wrap around the natural lash and lock it into place, resulting in greater longevity and resistance to twisting and tangling. Bonus: They have 50 percent less weight than round designs and improved curl retention.
[Images: Courtesy of manufacturers; StellaLash & TheLashChick: Jason Bennett]