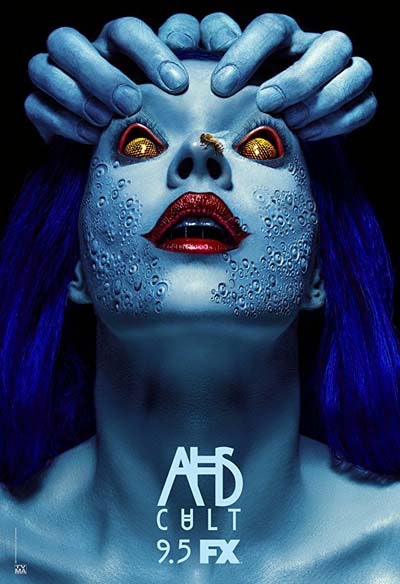 There were many steps involved in creating the makeup for this Season 7 American Horror Story poster. It had to tell a story and inspire fear, all while drawing new viewers in. Launchpad has the inside scoop, directly from makeup artist Kerry Herta. In her own words:
"I started with silicone transfer appliances applied to the eyebrows in order to completely block them out. Telesis 5 Silicone Adhesive was used to apply them.
The circular patterns were also silicone transfers, both appliances were custom made for me by my pals at Autonomous FX, Inc. Then I filled in the circles with European Body Arts Alcohol based paints, this gave them color and dimension under the lights.
To achieve the skin tone and smoothness on the rest of the skin, I prepped using the Veil Cosmetics Sunset Light Primer, Serum and Mixing Base. Next, followed up with Veil Cosmetics Complexion Fix as both a concealer and highlighter, mostly under the eyes and on highpoints.
I then airbrushed Temptu's Silicone based Airbrush Makeup on the skin, avoiding the silicone pieces.
Lastly, I lightly dusted a custom mixed Stroboscope color. I blended a color just for this campaign for Moonplay Cosmetics. All these steps helped to give that ethereal glow and illusion this skin was a reality. Lips were drawn with Kat Von D Beauty's Everlasting Lip Pencil in Homegirl, and filled in with Written In Blood Lipstick from Rituel de Fille. The coolest finishing touch ever, was the custom bee contact lenses that Veiled Optics made for me!"
[Image courtesy of Frank Ockenfels III]