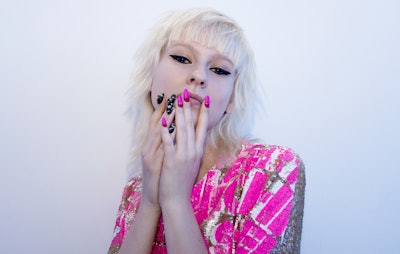 Libertine's designer, Johnson Hartig, has never been one to follow fashion rules. Perhaps that's why his Spring/Summer 2017 collection harkens back to punk's early days in the mid-70s, when railing against the government (those who make the rules) through music, literature and art fueled a subculture that still plays out today. "We're touching upon the real beginnings of punk, when it was an attitude, not a fashion," says evo Hair Lead Kenna Kennor. "It's all about a feeling." That feeling is "disinterested," where the clips that hairdressers use during the styling process are kept in place as a finishing touch. (The clips in question: evo Clip-ity Clap Setting Clips.)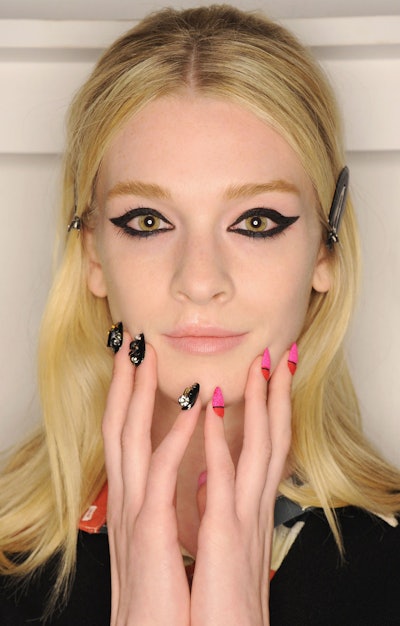 To begin, Kennor mists evo Salty Dog Salt Spray throughout the hair, concentrating it on the back of the head. "This spay doesn't dull hair," he stresses, noting that even though this style is punk in its origins, he still disses dullness. He chooses a center part ("it goes well with the geometric clothing"), and then backcombs at the crown using the evo Truman Tail Comb. After brushing up that bit of height, Kennor bobby pins back the sides, noting, "I want to keep the silhouette narrow from the front view. This style is more about the silhouettes—height from the side, narrow through the front. And we're exposing the ears, too—that has a feeling of imperfection." He tucks the aforementioned Clip-ity Claps above each ear, and then sprays evo Shebang-a-bang Dry Spray Wax on the roots for a touch of "grease" followed by a dusting of evo Haze Styling Powder to lend "lifted punk texture."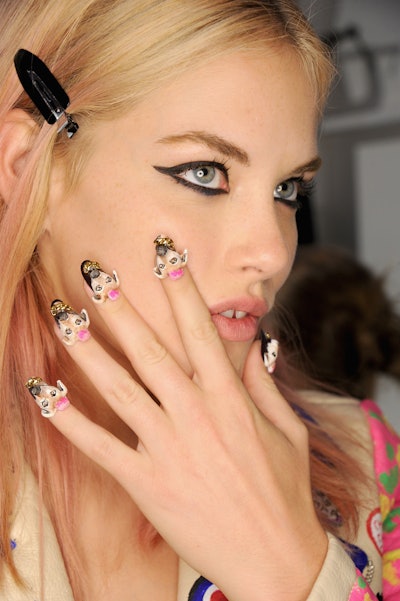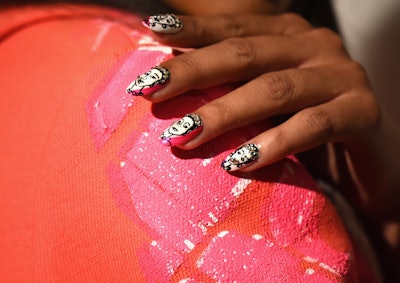 Because anarchy fuels punk, it stands to reason that the nails should buck traditional manicure governance as well. "I'm calling this our 'split-style' manicure," says CND Co-founder Jan Arnold. "Each hand [on each model] has a different look. We're clashing up the colors and the textures."
Twenty-five different nail art looks dress hands; Arnold says, "They're all designed to look like a punk rock collage." There's the "Rock and Flock" set, where one hand boasts black tips encrusted with jewels while the other hand is doused in neon-bright flocking powder. Or, the "Frock and Chain," where chains drip from nails on one hand and plumes of pink faux fur sprout from the other.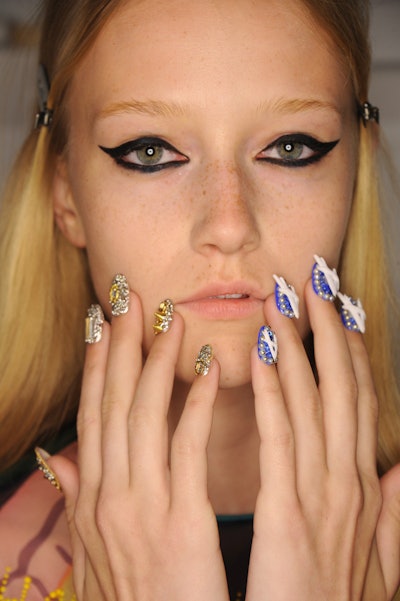 As is typical fashion for CND, the team turns out true pieces of art: 3-D sculptures of Hartig's dogs are the brainchild of CND Design Team member Shelena Robinson, as is painted tips featuring Queen Elizabeth II with a nose ring and the most precise, stencil-like words: Libertine #Chic as Hell. (These were hand-painted, no stencils involved. Fellow member Ashley Craig hand-sculpted 3-D faces with bars across the eyes, and guest artist Winnie Huang crafted "King Johnson" nails on which the designer's visage is encapsulated with jewels, bullion and pearled crowns (of course).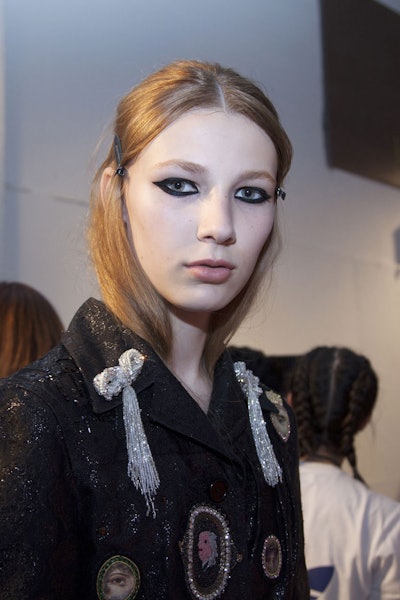 The punk vibe feels more glam in the makeup, which Too Cool For School Makeup Lead Katie Jane Hughes is deftly painting. "She's a punk-rock girl, but she's freshly beautiful," she says, pointing to the "unapologetic black eye" as the piece de resistance. To create the eye design, she applies Dinoplatz Highline Eyeliner to the back of her hand, and then mixes a drop of Aqua Gel Mist to wet the texture. She lines both the top and bottom lash lines with the mixture and a brush, extending the wing far beyond the model's eyes. To lend a "moon-reflecting-on-the-ocean" effect, Hughes taps a smidge of blue Glam Rock Urban Shadow on top of the black liner, right above the pupil only. "We're leaving any bits of messiness; any melting and transferring is part of the look," she says. How very punk, indeed.
[Image credits: Courtesy of CND; Too Cool For School]