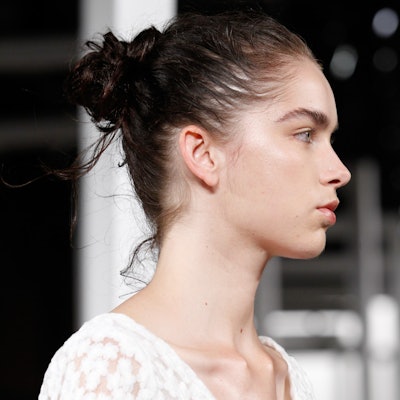 by Rachel Kossman
As is the case during New York Fashion Week, when a beauty look is pegged as "effortless," it's often a many-step ordeal. At Milly, that NYFW trope rings true as stylists work tirelessly behind the scenes to achieve the "I did it myself" achievable look.
Wella Professional Lead Stylist Bob Recine finds his inspiration in a ballerina's hair: a casual, easy-to-replicate bun that's a bit of a mess. "We wanted to create something that's touchable, realistic and not out of the everyday girl's reach," he explains backstage before the show. "When you see the hair, it looks like the girl is going out jogging. But we've given the bun a bit of sophistication by adding some Wella Professionals EIMI Glam Mist. That's what turns it into something special on the runway."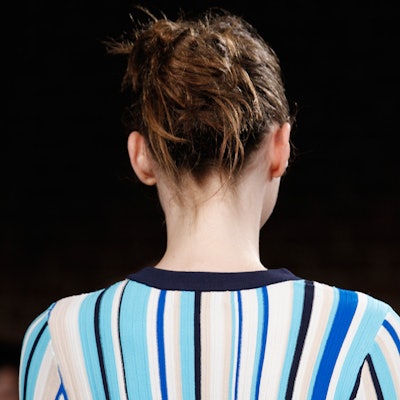 To achieve the look—which Recine refers to as "if the hair was dried in a convertible with the top down"—he applies Wella Professionals EIMI Boost Bounce to the roots and uses a blow dryer (but no brush) to create a wind-dried effect. Hair is pulled back high on the head, secured with an elastic and divided into two pieces, which he draws together with a few bobby pins.  "I told my guys the best way to do it is don't think. Just do it. Make a mess," laughs Recine.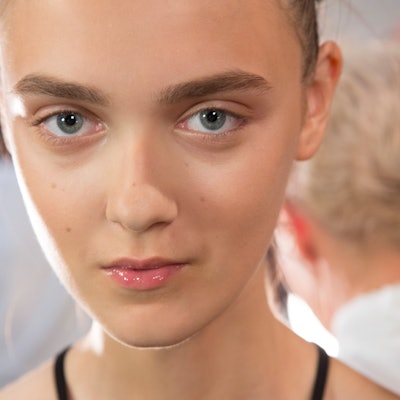 To prep models' skin for their makeup, professionals from SkinMedica wipe down their faces, wash their complexions with a facial cleanser and apply the HA5 Rejuvenating Hydrator, followed by the brand's Dermal Repair. The moisturizing process helps to hydrate and smooth their skin for easy makeup application.
And that easy makeup application comes from the hands of IT Cosmetics Makeup Lead Romy Soleimani. "The look for Milly is a super fresh face; think '90s minimalism with a glossy lip," she says. "I used IT Cosmetics Bye Bye Redness followed by Bye Bye Under Eye to perfect the skin, keep it really fresh, and take away all redness and discolorations without a full face of foundation. Because that's all you need—the products are that good!" She then taps Hello Light on the temples and inner corners of the eye, as well as all over the body—namely on the high spots of the shoulders and the collar bones to make them gleam. And then there's that glass-like lip: Soleimani washes Vitality Lip Flush in Perfect Nude across the mouth, noting, "It feels fresh to see a glossy mouth after not seeing it for so long—after it being all about matte, matte, matte, matte. With all of the dry cottons and crispness in the collection, it's refreshing to see a glossy lip."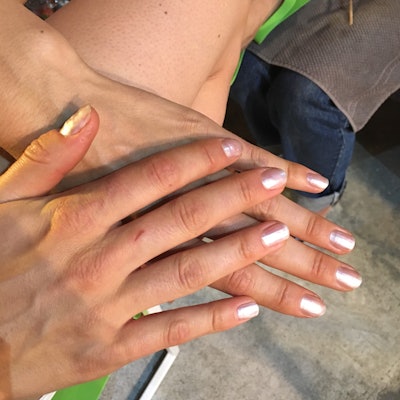 The finishing touch to the Milly runway look is a simple manicure and pedicure—a single coat of Bristol Fairy, an opaque, shimmery white polish from Priti NYC's newest collection. "This pearlescent white perfectly compliments the impeccable details and luxurious fabrics of Michelle Smith's collection," explains Priti NYC Founder Kim D'Amato.
Overall, the Milly models have an approachable look—one that doesn't outshine the intricate details of the collection. "My favorite styling tool this season is confidence," explains Recine. "So what if a little bit of hair is out of the bun? That says 'I'm here, I'm me,' and it gives the look a bit of imperfection. When you perfect beauty, you sacrifice charm."