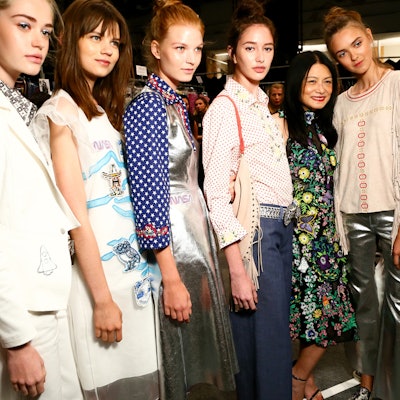 Certain things never go out of style; denim, leather and nudes are all examples. At Vivienne Tam, these timeless references inform the beauty inspiration, which is Western Americana—but with a futuristic twist. Key Hair and Creative Lead for The Red Door Salon & Spa Makiko Nara creates a loose topknot, which is slightly different on each model and unique to her own look.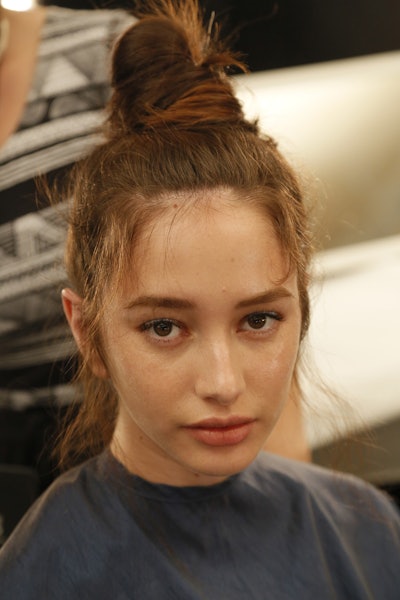 "If a girl has a fringe, we just leave the fringe," Nara explains. Not every model has a topknot, with some girls keeping their hair down—again, as a testament to individuality. To get the knot, Nara applies Kérastase L'Incroyable Blowdry on hair from roots to ends; "it's a really light product and doesn't feel heavy—it's easy to use," she comments. Nara also applies Kérastase Matérialiste on thinner hair to beef up texture. She preps hair by brushing with Olivia Garden's iDetangle Brush and blow-drying with the Oliva Garden Ceramic + Ion Supreme Combo Oval Cushioned Paddle Brush, which creates volume as she lifts the brushstroke upwards. She then pulls the hair up, creating a knot and wrapping the remaining hair around it. The look is purposely imperfect; it's okay for hair to fall out slightly, doing its own thing. "It's almost like you could do it to yourself," she adds. Nara completes the look by misting with Kérastase V.I.P.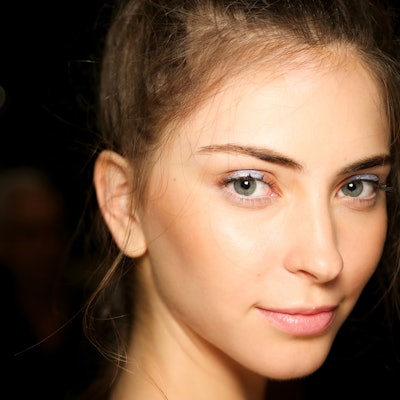 Beauty is "all about the eyes," explains Stila Lead Makeup Artist Sarah Lucero. "I created a custom-color denim with a little bit of a robotic finish," she explains. "It's Americana; it's a bit of a western touch to a matte, cognac cowgirl." The color palate is earthy; the colors exist in nature. "Think sienna and warn-in cowboy leather," comments Lucero as she blends Stila Stay All Day Waterproof Liquid Liner in chocolate brown and periwinkle, reminiscent of the color of distressed denim. "It's like sky blue, the beach or a desert; think Houston," she affirms. Lucero applies Stila Glitter and Glow (coming Spring 2017) as a top layer on lids to conjure that robotic influence.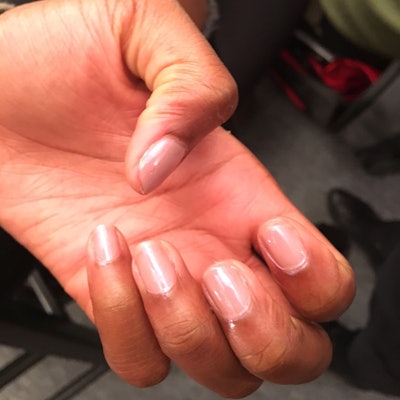 Vivienne Tam decided to go with color for nails this season, using Essie's Demure Vixen. "It has a lot of shimmer tone," explains The Red Door Salon & Spa Nail Lead Iwona Opiola. "It blends very nicely with every type of skin," she continues, of the sheer, almost-nude shade that has a hint of pearlescent to it. To finish, Opiola applies Essie's Good2Go Top Coat to ensure nails dry quickly.