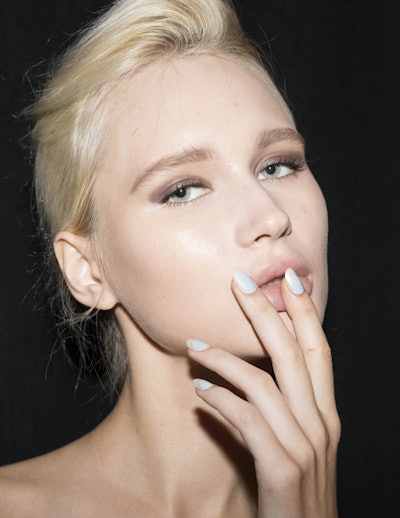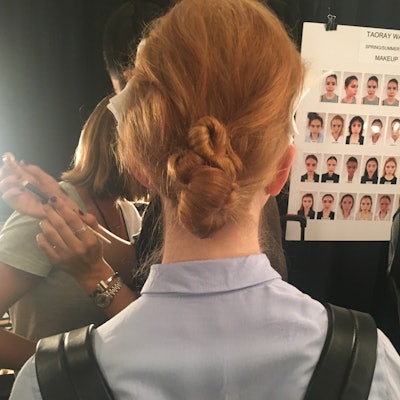 The beauty at Taoray Wang directly correlates to the collection, which skews masculine with a touch of femininity. "We wanted something a little structured and strong, but we've also created this really lovely knot at the back that gives [the hair] a little bit of a feminine finish," explains Cutler for Ulta Lead Artist Rodney Cutler of his hair design. To craft the working-woman look, Cutler spritzes models' tresses with Redken Fashion Work 12 or uses Pureology Pure Volume Instant Levitation on finer locks before blow-drying. He then creates a strong yet disheveled side part and three layered ponytails at the back of the head. "If you pull the hair all into one ponytail, it will naturally collapse on the sides," he explains. "You don't ultimately see it, but [this technique] enables you to retain the shape back through the sides." He finishes the look by tying the ponytails (vs. using pins) and twisting them. "This allows you to create little bumps and dents, so instead of getting a traditional bun, you can cross it over and get varying shapes," Cutler explains.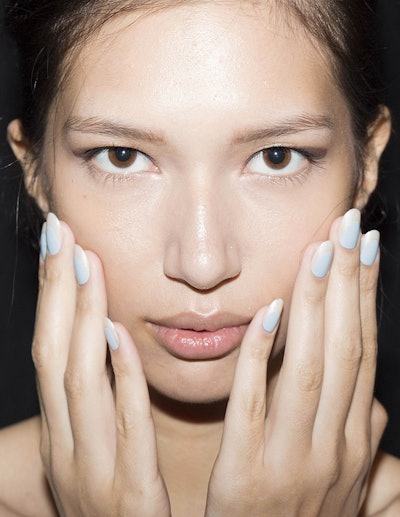 Bobbi Brown Cosmetics Lead Artist Kim Soane also syncs her makeup design to the collection, keeping the skin soft and subtle while crafting a strong eye look. "She's a bold, confident woman that still has a hint of femininity," she explains. For the brow, Soane uses Bobbi Brown Brow Kits to craft a confident, straight line with a horizontal shape. "It's elongated a little bit more than the eye so there's still strength to the brow, but it's soft," she says. Soane then applies dark brown Bobbi Brown Long-Wear Cream Shadow Stick in Bark to lids, shading an angular shape, and coats lashes in Bobbi Brown Smokey Eye Mascara. Nude, illuminated lips and a subtle glow on cheeks complete the look.
The nail design takes a departure from seasons past where the nail art has aired on the conservative side. "I saw some colors in the collection and I decided to just go for it!" says Dermelect Lead Artist Rose Velez-Miggins. "I sent her about a half-dozen looks that included Dermelect's upcoming soft, dusty blue [lacquer], and she picked one right off the bat. I was so excited and couldn't believe that we were actually stepping outside of the box!"
For the stunning reverse French, Velez-Miggins first coats tips with Dermelect Moon Kissed and then dips an angular brush into the dusty blue hue (new for Spring 2017) and lays the polish down on the nail, pulling it back toward the cuticle. "This way you don't have to worry about having to trace out a horseshoe shape," she explains. To complete the look, she adds a coat of Dermelect Memento Manicure Extender to give tips a high-gloss finish.