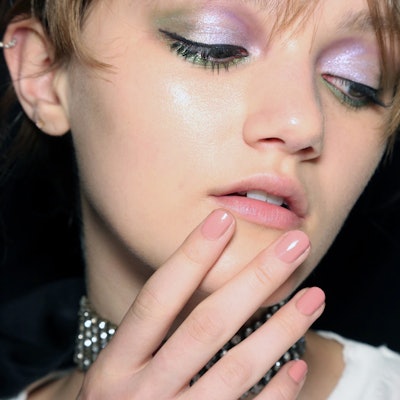 A fashion muse can tell the story of an entire collection—who is she and where is she from? At Jill Stuart, she is a dancer—an artist with ties to the '90s. "She's light as a butterfly," explains PHYTO Paris Key Hair Artist Didier Malige. "She has her own philosophy; she definitely wants to remain an individual," he continues. "That makes us want to do hair that is not really constructed." To emphasize the uniqueness that is so crucial to this story, Malige works with the model's natural texture. "It's kind of like she's been swimming and let her hair dry, so we try to create waves." He crafts finger waves "unless the girl's hair is very frizzy," in which case he will use a curling iron to tamp down any fuzz. Malige preps tresses with PHYTO Phytokeratine Repairing Thermal Protectant Spray from roots to ends, then adds PHYTO 7 or PHYTO 9 from mid-shaft downward. Next, he applies PHYTO PhytoPlage Protective Sun Veil "if the girl's hair is very dry." Malige adds PHYTO Professional Strong Sculpting Gel from the root to the eye line before diffusing. Hair is then set using PHYTO Phytolaque Soie Light Hold Hair Spray while drying.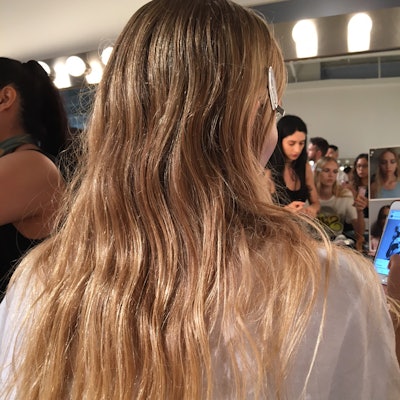 Jill Stuart Beauty Lead Makeup Artist Aarron Demey has his own story for the muse. "She's a dancer from New York or San Francisco, and it's after rehearsal," he says. His dancer chooses pastels used in the collection to brighten her face. "I'm using a lot of creamy, iridescent powder shadows," he continues. Blues and greens mix together to riff on the '90s. "It's about the eyes being very soft, almost blown-out, with lots of mascara, a little bit of a black lash line, a very gentle highlight on the cheekbones and a very soft lip," he explains of the look, which is girly, but by no means shrinking. "It's feminine and pretty but it has got strength at the same time," he adds. Demey uses the designer eponymous beauty line, namely Jill Stuart Beauty Sugar Brillance Eye Color in Passion Fruit, Mint Sorbet and Midnight Shine, as well as Jill Stuart Beauty Mix Blush Compact.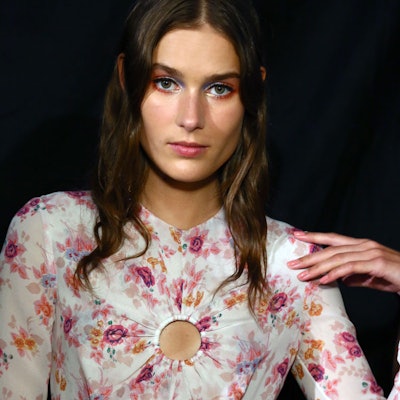 To make sure the dancer muse's nails are on pointe, Zoya Lead Manicurist Naomi Gonzalez creates a feminine, seemingly transparent manicure, but with full-coverage color. "This year is very different," she explains, "because Jill picked color. She never picks color for her Spring/Summer collection." To honor this out-of-the-ordinary choice, Gonzalez paints the nails in Zoya Mia, calling it "Jill's Mia." Gonzalez starts nails off using the Zoya Manicure System in Pink Perfector. She applies the Perfector as a base coat, then brushes two coats of Mia before topping nails off with a coat of Zoya Glossy Seal, which creates a "mirror-like finish"—easy to spot on a runway. "It's a very simple look—fresh, feminine and fun," says Gonzalez.