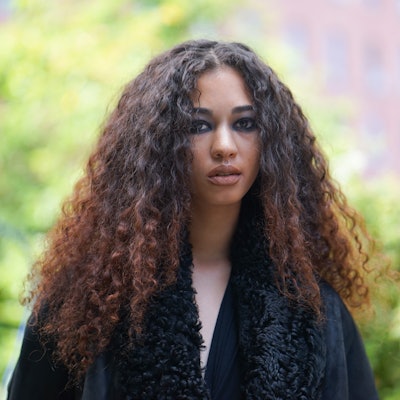 As the landscape of Fashion Week begins to transition to a "See Now, Buy Now" model in which what you see on the runway is immediately available for purchase rather than making shoppers wait four months for the styles to pop up stores, designers like Donna Karan are honing in on this direct-to-consumer way of showing. At her Urban Zen presentation, Karan doesn't trot out a Spring 2017 collection; instead, she presents Fall 2016—because, after all, Summer 2016 has yet to even end.
So the accompanying hair and makeup skews less spring and more autumn-oriented, and Lead Makeup Artist Bank Natdanai follows this bent with a bold, black smoky eye inspired by the earthy and seductive kajal liner look made popular by woman in India. "We want the models to be naturally beautiful, but Donna wants to put some drama into the look," explains Natdanai of the striking design.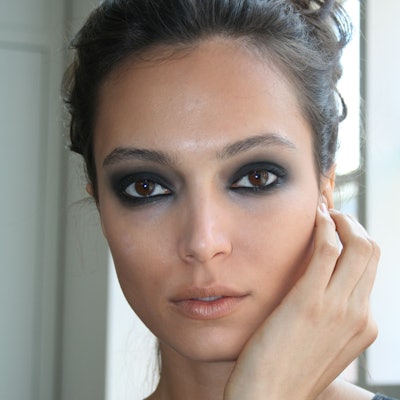 After heavily lining the upper and lower lash line with Chanel Stylo Yeux Waterproof Eyeliner in Ardoise, he sweeps black shadow over the liner for depth. Working with his fingers and brushes, Natdanai mixes the liner and shadow together until its perfectly smudged. The skin is left natural with just a touch of blush on the cheek (Chanel Joues Contraste Powder Blush in Alezane) and a hint of nude-pink color on the lips (Chanel Rouge Coco Stylo in Script).  
"It's a great fall look and, in reality, you can play with color [to make it more wearable]. Instead of black, try burgundy, brown or navy," Natdanai suggests.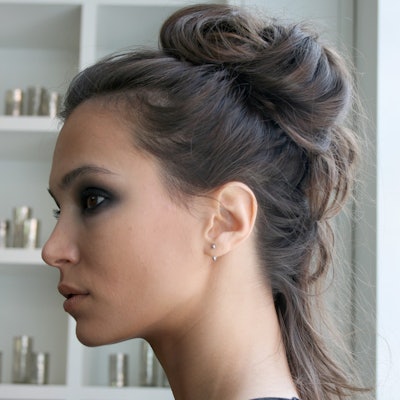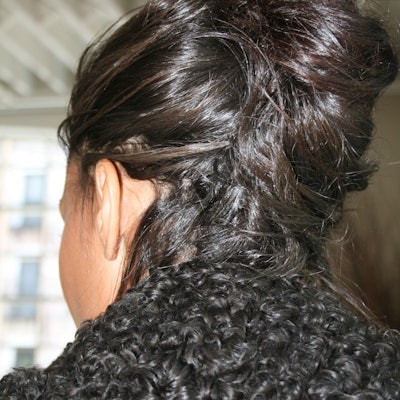 Inspired by the idea of wind-whipped autumn hair, L'ANZA Healing Haircare Lead Stylist Jorge Luis works with two styles backstage: a long and wild mane, and a bun made of loosely pinned-up top knots with strands escaping down the back of the neck. The key to the styles: raw and simple texture. "I am working with texture and not using brushes—everything is worked with fingers," says Luis. "I'm mixing two products in my palm, the L'ANZA Dry Texture Spray and L'ANZA Keratin Healing Oil Hair Treatment and then working them into the hair by layering and layering." He continues to run the cocktail of products through dry hair, starting from under the hair and at the roots, until he achieves his desired texture. To finish, Luis mists clear L'ANZA Color Illuminator Hair Brightening Spray to refresh the color and brighten strands to make them direct-to-consumer ready.