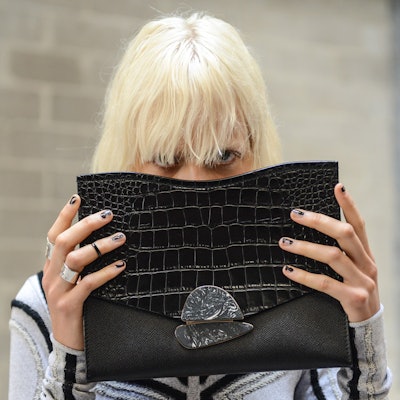 A touch of unexpected color can make a whole look pop. At Proenza Schouler, hair and beauty are pared down, while a vibrant smudge of MAC Chromacake brings attention to oft-forgotten earlobes.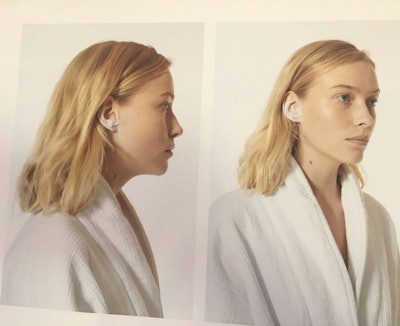 Ears are put on display thanks to Bumble and Bumble Hair Lead Anthony Turner, who creates a quiet hairstyle that tucks behind both lobes. For Turner, the focus is on the girl's natural beauty, taking inspiration from the diverse casting, which includes, "girls with bobs, bangs, everything," he explains. To make sure hair is fresh, clean and ready for the show, Turner washes each model's pate before having her go outside and air-dry in the sun. For curly girls he uses Bb. Curl Shampoo. Those with wavy-to-straight manes lather up using Bb. Gentle Shampoo. To tame frizz, Turner runs Bumble and Bumble Hairdresser's Invisible Oil through the hair. It's not about hiding mistakes; it's about everyone being herself.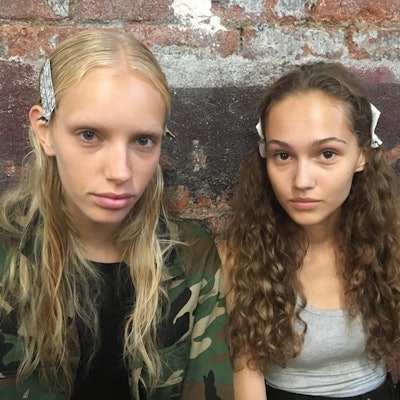 In the makeup chair, product is kept to a bare minimum and natural beauty is enhanced. Because the collection has a tribal influence, MAC Makeup Lead Diane Kendal keeps with the theme without being too obvious. Instead of an expected stripe or dots applied directly to the face, she sweeps MAC Chromacake in White or Yellow (depending on the outfit) to the bottom half of the ears. She activates the color using water before rubbing in the pigment. "It's not supposed to look perfect; it's almost like she smudged it herself," says Kendal. To give the skin luminosity, she applies MAC Waterweight Foundation. Although Kendal does not use mascara, she curls the lashes and brushes the brows for a groomed finish.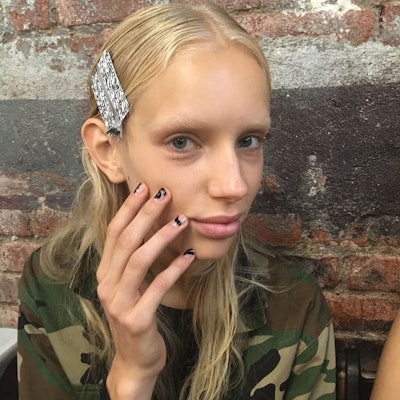 Nails reinforce the tribal influence via abstract black shapes. China Glaze Nail Lead Honey paints free-hand shapes on each nail, choosing from a total of six different configurations. Whatever the shape, "it's a bold, thick line; it's a statement," she explains. Not everyone's is the same, symmetric or perfect. "That's what abstract is," Honey adds, "it's something super quick; it's nothing to think about."
Shapes include a horizontal line, vertical line, an S, or a 2, for example, using only the nailbrush to swish them onto the naked nail. "It might be mild or crazy, but nail art has never gone anywhere; it's always been here," she adds of the trend. Both Honey and the designers created the shapes specifically for the collection, based on previous inspirational sketches.
Shine and gloss highlight the nail; to create a standout sheen Honey applies a layer of China Glaze Gotta Go Top Coat. She then gives each girl a pedicure using one coat of China Glaze Innocence to complete the look.