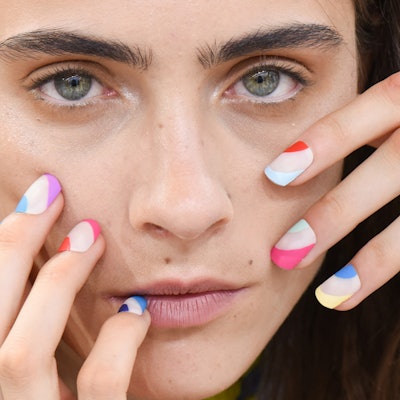 by Rachel Kossman
Inspired by travels to Cuba and Capri, designer Tanya Taylor creates a classically bright and joyous Spring/Summer 2017 Collection. "The clothing has a bit of a '70s influence; it's very exuberant with lots of custom florals, textures, tassels and prints," says Bumble & Bumble Lead Stylist Allen Wood.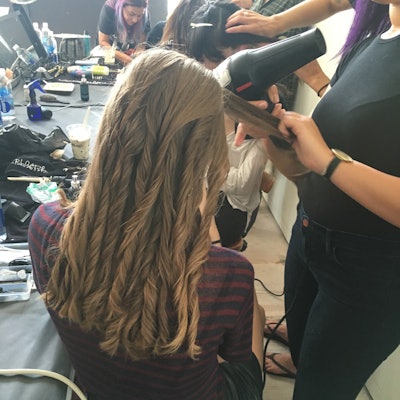 When looking to create a complementary hair look, Wood took to a model's hair in one of the fitting photos: slightly curled, somewhat frizzy locks. "She had this amazing, natural, air-dried hair with a slight curl, and a few ropy little tendrils here and there," he explains. "Our goal is to recreate that easy, slept-in texture on all the models."
To achieve this, stylists mist Bumble & Bumble Surf Spray onto small sections of the hair before blow-drying it with a nozzle and twisting the tendril through to the nape. "The twists aren't too tight; we keep them loose so the air can go through them. We don't want to make them too ropy or spindly-feeling," he clarifies. "We kind of mash at them as we go, so they're a bit fuzzy and not perfect—we want an organic feel."
After creating nearly 50 twists on each model's head (careful to alternate directions so they won't turn into one big coil), stylists let the twists dry before separating them with their fingers, breaking them up but not totally shaking out the curls. "To capture the '70s vibe, we are letting the hair swoop down and sweep across the forehead before it's tucked behind the ears," says Wood.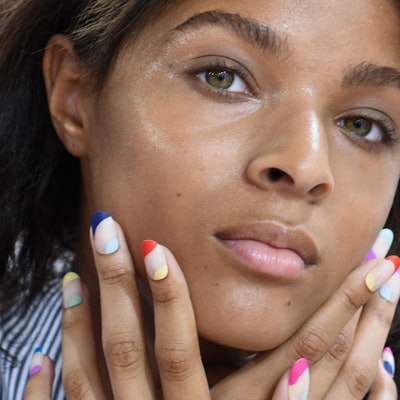 MAC Lead Makeup Artist Michelle Clark conjures Cuba and Capri with a "super dreamy, '70s, ultra-chic, ultra-luminous, balmy goddess look." Models don a "barely there" combination: clean skin, highlighter, a light orange-beige eye shadow and a sheer, practically naked lip.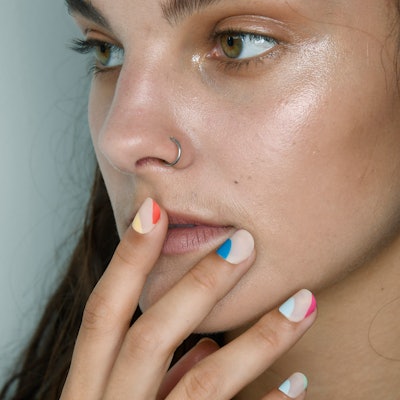 To play off Taylor's vivacious color scheme, Morgan Taylor Lead Nail Artist Gina Edwards breaks out a slew of bright Morgan Taylor lacquers— West Coast Cool, Orange You Glad, Tropical Punch, Mint Chocolate Chip, Ahead of the Game, Tokyo A Go Go, Sweet Escape and Deja Blue—to hand-paint half moons on the top and bottom of her dozens of nail tips. A base coat of Morgan Taylor New School Nude anchors the colorful shapes. "No two nails are the same, which I love," Edwards says, noting that a final touch—matte top coat—washed down the brightness of the hues to "embody those beach-y, subdued vibes that inspired Tanya."
"This collection is quintessential spring and summer, and that's the nail look I went with," explains Edwards. "You see the hair and makeup follow suit perfectly, and it all just falls into place."