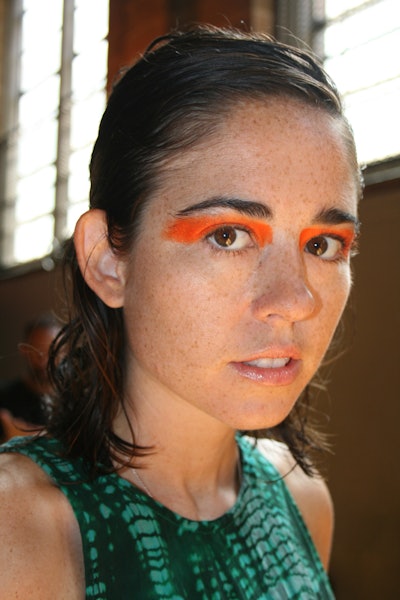 It wouldn't be New York Fashion week without a surprise from a fashion designer, and this season Raquel Allegra took that role and ran with it—literally (sort of). Down at the Old Gym on Mulberry Street in Manhattan, New York, Allegra, along with fashion brand Assembly New York, staged a basketball game to show off the two labels' sports-minded collections.
And lest you think the location plays the biggest role, the models are even more super sized in their duty: Allegra's team is comprised of women from New York Downtown Girls Basketball, each member made game-day ready by the beauty teams before taking to the fashion court. "We wanted the hair to feel like they were at practice, playing the game and sweating. It's not too pretty," explains Alterna Haircare Lead Stylist Nate Rosenkranz.
To achieve the pseudo sweat-laden hairstyle without adding too much crunch, Rosenkranz first applies Alterna Caviar Anti-Aging Thick & Full Volume Mousse to slightly damp hair, oversaturating strands to the point of no return. He then slathers on Smoothing Hydra Gelee to further drench locks. To keep the models comfortable and ready to play ball, Rosenkranz says the hairstyle is no different than a normal female b-baller would do when taking the court: some up, some down, dressed with a sweatband. To finish, Working Hairspray is sprayed to secure the on-court style.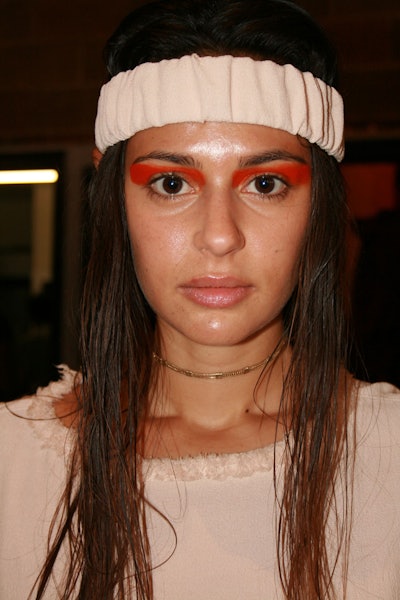 Make Up For Ever Lead Makeup Allie Smith departs from what a real basketball player would don during hoops, smearing a creamy orange shadow (Aqua Cream 10) over the lids in a block shape reminiscent of the black eye grease used by football players under their eyes. "It shows team spirit," opines Smith. The skin is super fresh and dewy with just a touch of Ultra HD Foundation mixed with moisturizer to hydrate and cover blemishes. "The look is very, very natural—and all about the orange," Smith concludes.