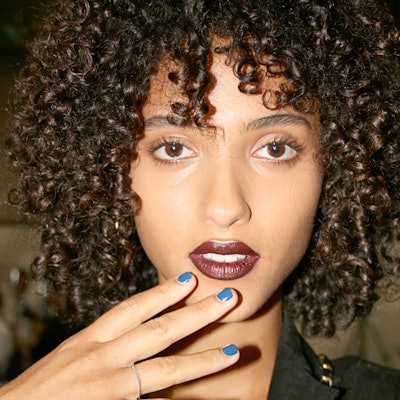 "Every girl is very different," says Wella Professionals Global Creative Director Care & Styling Eugene Souleiman backstage at DKNY. "We're looking at each girl's own texture and length and taking their own personal style as a form of inspiration."
This hair sentiment—a focus on individuality—was all the rage last season, and seems to not be letting up for Spring/Summer 2017. To that end, Souleiman leaves each girl's hair down and straight, saying, "it's not precious," but rather cool and tough. He starts the style by adding Wella Shaping Gel to the roots of the hair for a bit of volume. He then works Wella Sugar Lift on the mid lengths and ends to give it a piece-y texture. "It's about the hair having a rawness to it," Souleiman adds. "It's raw and glamour combined."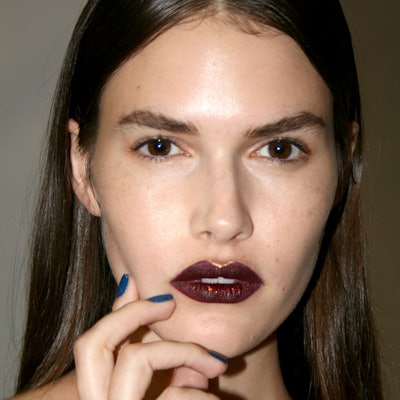 For the makeup, Lead Artist Pat McGrath puts her eponymous (and extremely hard to get your hands on) makeup line to work, crafting a series of show-stopping dark lips for the urban glamour girl. For the show, a beauty progression takes place: "We're starting out with a dark matte lip, then going to a dark chocolate lip that then goes into full sparkle," says McGrath of the lip evolution that takes place on the runway. With her Pat McGrath Labs Lust 004 Lipstick Kit at the ready, Bloodwine #2 acts as a base and as the lips get more intense, a sprinkle of red or gold glitter and a gold cupid's bow emboldens the mouth. To spotlight the puckers, McGrath keeps the rest of the design clean by adding just a hint of light brown shadow to the eye for shape, a touch of mascara at the root of the lashes and, of course, her editor-approved Skin Fetish Highlighter. "It's quite a modern way to wear the lip, with that bare, bare face," McGrath continued. "It's all about your lip being your jewelry."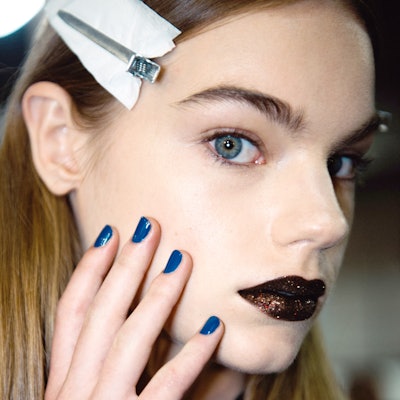 After hearing that the DKNY collection was made with millennials in mind, JINsoon Lead Manicurist Jin Soon Choi concocted a distinct polish color, Beau, a bold blend of teal and blue. "The collection has distinct pieces ruled by contrast," says Choi. "This color can be very elegant or very street. It embraces all the colors in the collection."