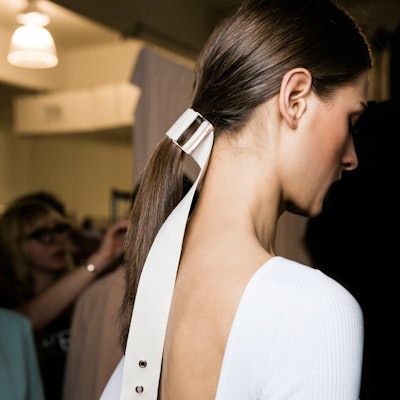 Backstage at TIBI the various beauty teams take their cue from the collection's salute to the Edwardian era (think waist-nipping corsets) meshed with utilitarian influences (functional dressing—though corsets as outerwear don't typically fall in line with ease). To allow the collection's color palette of black, navy, green, rust, apricot and red to stand out, Bobbi Brown Cosmetics Lead Makeup Artist Cassandra Garcia creates a monochromatic bronzed beauty look. "We are keeping everything simple and in the same tone—a taupe color," Garcia explains.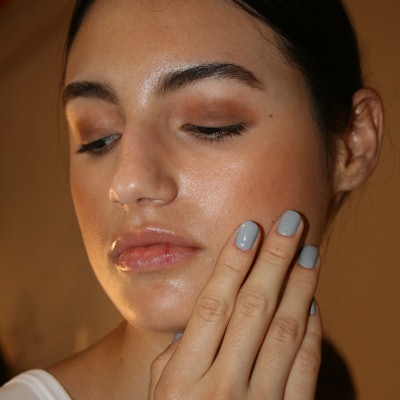 She first applies Bobbi Brown Taupe Long-Wear Cream Shadow Stick on the lids, stopping at the crease. Garcia brushes Taupe Eye Shadow over the cream shadow, saturating the lower lid and lash line. She finishes by diffusing the under-eye with more Taupe Eye Shadow and applying a soft touch of Smokey Eye Mascara. "We don't want to see any makeup on the skin, so we're doing as little makeup as possible—but the right amount for each girl," says Garcia. To that end, the skin is left fresh and natural except for a quick swoop of bronzer in Telluride.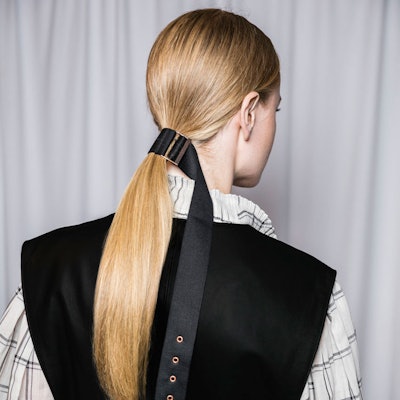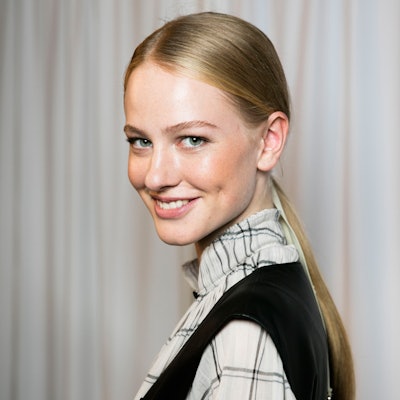 For the hair Aveda Lead Stylist Frank Rizzieri elevates a classic ponytail with the addition of one of clothing's most utilitarian accessories: a belt. The belt-buckle tie, designed specifically for the show, plays off details and craftsmanship found in the TIBI wares. But about that ponytail: Rizzieri first uses Aveda Damage Remedy Split End Repair to mend any separated ends and give the hair extra polish. He then spritzes the hair with Thickening Tonic and gives it a quick blow-dry before drawing a middle part (or, depending on the girl, a slightly off-center part) and gathering the hair into a low ponytail at the nape of the neck. From there, the belt is cinched and buckled, it's long lengths left to swing jauntily with the tail as the girls walk.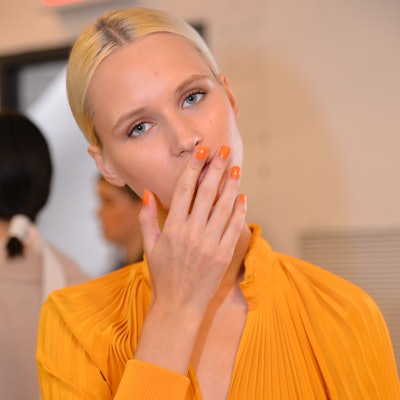 The nails take a more colorful route, where one shade isn't enough; five is the magic number. "We wanted to combine the Edwardian era, which is complicated and a bit chaotic with its intricate details, together with the functional utilitarian themes of the collection," Lead Manicurist Jin Soon Choi explains. "We're showing the balance between the two—the chaos and the order." For "chaos", Choi points to three sorbet colors from her eponymous line: JINsoon Dolly Pink plus a new blue and orange (both Spring 2017). The "order" side goes to two cool, muted tones: Demure and a new grey (Spring 2017).