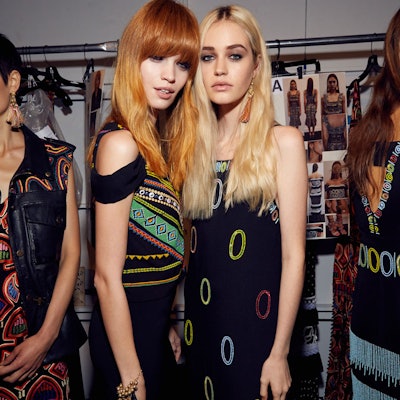 Backstage at the Nicole Miller Spring/Summer 2017 runway show, French beauty meets '90s grunge, delivering messy eye-skimming bangs, sexy bedhead texture and beautifully smudged eye makeup. "It's Lou Doillon meets the '90s. Picture a French woman who wakes up smoking a cigarette and scratching her hair; it's that kind of feeling mixed with a '90s moment," says PHYTO Paris Lead Stylist Tomo Jidal of mussed style he created for the show. "[The hair's] about the fringe and texture."
Jidal cocktails PHYTO Intense Volume Mousse and Phytolisse Serum, working the mixture through the mid-lengths to the ends before blow-drying tresses with his fingers to add grunge-worthy texture. If more texture is needed, Jidal works with the thongs of a curling iron to create a ridge-like shape—think crimping—on the hair, tonging large sections, one at a time. Jidal finishes the look by attaching faux bangs to the top of the head and trimming the fringe to fit each model perfectly.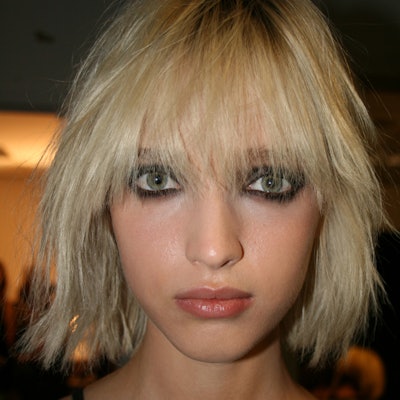 The centerpiece of the makeup design is the eye, which channels the toughness and sexiness of '90s grunge—but with a sophisticated edge. "It's a cool-girl smoky eye," says Maybelline New York Lead Makeup Artist Erin Parsons. "And it's still chic and beautiful [today]." Parsons builds the bold look using just eyeliners. She starts by applying Maybelline New York Lasting Drama Waterproof Pencil in Smooth Charcoal and Glazed Toffee to the entire lid with her fingers. "You want to make it really sheer, so you get the tone but you still see skin," says Parsons. The eye is then outlined with Sleek Onyx and smudged out on both the top and bottom lash. "This is one of those smoky eyes where you can do everything with your finger and it all comes together," she says.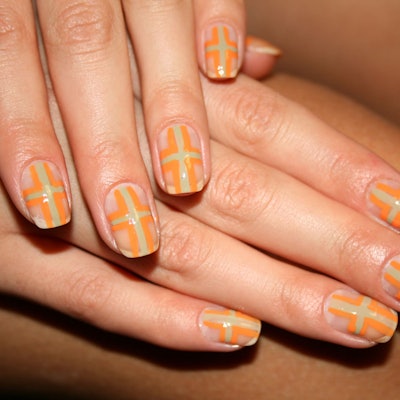 For the nails, Zoya Lead Manicurist Holly Falcone crafts a negative space "Mola Maze" nail design influenced by the collection's inspiration, Panama. "In Panama there's a textile called Mola that is made of line-art mazes; it's really intricate," explains Falcone.
To replicate this labyrinthine ideal, Falcone first preps the nail with Zoya Anchor Base Coat. Then, using a striping brush, she paints a cross in the middle of the nail using soft green Zoya in Ireland. She then outlines the cross with orange Zoya in Arizona. The idea, she says, is to continue tracing the cross until you reach the end of the nail, alternating colors. Of the palette, Falcone explains, "Its orange and green and pops of color that exist in the collection."