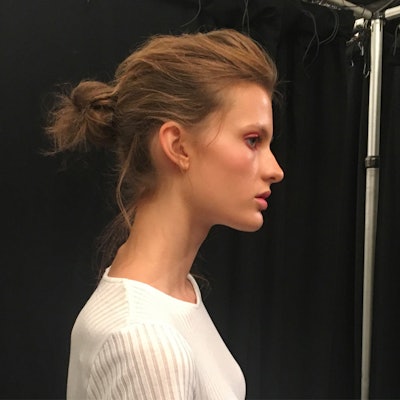 - by Rachel Kossman
Designer Tadashi Shoji played Chinese artist Wu Junyong's The Flying Ark video prior to models slinking down the runway at his Spring/Summer 2017 collection. In it, a tiny, feathered crane pulls a tree brimming with animals away from a scorched earth—a visually arresting take on Noah's Ark if ever there was one. The surreal art piece serves as the inspiration behind the collection, leaving the beauty team to translate it into a bold and unique—yet complementary—beauty look.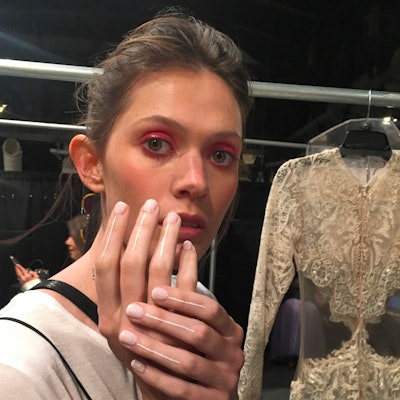 MAC Lead Makeup Artist Pep Gay picks up on the hints of pink throughout Shoji's entire collection to inspire his palette. "We wanted to pull a color into the makeup that would tie everything together," explains Gay, who uses the new Utterly Crisp lip stain and Passionate lip-gloss from MAC's 2017 Spring/Summer Collection on the eyes to create a velvety, glistening eyelid. "Both products are very creamy because they're meant for the lips, and the gloss adds a shine to the eyelids that's very unique," he says. Overall, Gay seeks to strike a bold but modest balance. "It's summer, so makeup can't be heavy," he reminds. "I want to translate the simplicity of the makeup. It's strong and unique, but simple."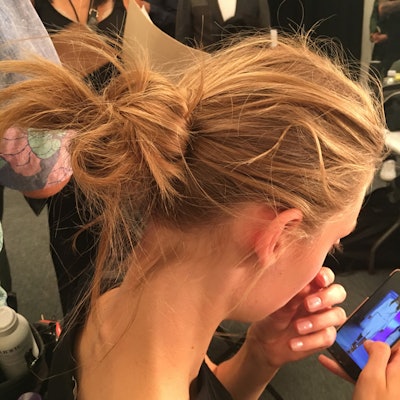 Lead Hair Stylist Kevin Ryan pulls models' hair up into messy updos for the look. "We used Unite Beach Day and BOOSTA Spray. The combination gives me sort of an oil-and-vinegar texture; when you use two products that aren't friends you get a juxtaposition in the hair, which I love working with," he explains. After hair is gathered up, Ryan instructs stylists to pull out several strands to act as wispy threads; he then use forceps to intertwine the "threads" back into the hairstyle. "This lets you weave little bits of tendrils back into the scalp; you just pull them up and over and intertwine them through for an undone look," he explains.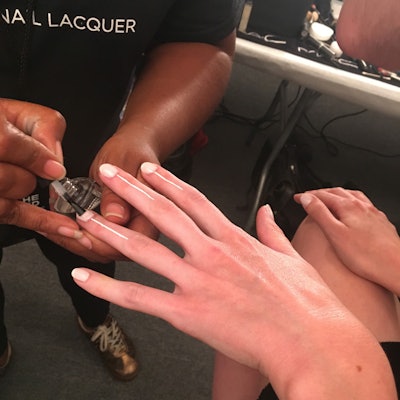 For the show's nail look, freelance nail artist Teresa King worked with Shoji to develop a unique, graphic, off-the-nail design. "We went back and forth between choosing a white, sheer pink or beige polish for the nails, but in the end we found that a sheer white—LVX Nail Polish in Fantom—was just so beautiful," says King. Then, she notes, the two talked about doing something striking: "Something that would pop when the models were going down the runway, that wouldn't get lost in translation," she explains. The result is a thin white, tribal-inspired line running from the bottom edge of the nail bed past the second knuckle. "We picked the three middle fingers because we want to make sure the lines are an eye catcher," explains King. "Against the clothes, the white stripes are just absolutely beautiful."