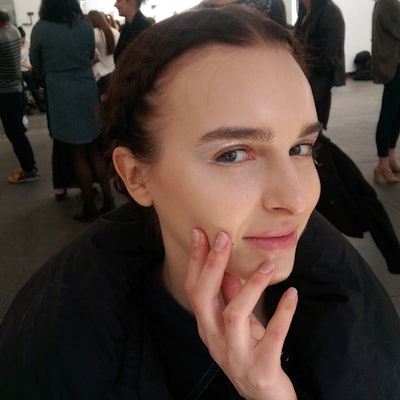 The latest looks were on display at New York Bridal Fashion Week, just in time for wedding season. At Lela Rose, the bride is undoubtedly pretty, but she's also modern and cool. "Its not your typical, romantic bride," says makeup lead Romy Soleimani of the beauty look. She has a glow and flush, but the update is that it's not rosy; it's a nude glow, achieved with bronzer. "It's all about how you prep the skin," Romy explains. To get radiant on the big day, Romy uses WEI Five Sacred Grains Perfect Radiance Pudding Cream, WEI Five Sacred Grains Vital Glow Milky Serum and WEI Five Sacred Grains Rapid Glow Liquid Milk. For the "perfect face," Romy uses IT Cosmetics It's Your Beauty Award-Winning Must-Haves Palette. "It's all about color-correctors," she continues, citing IT Cosmetics Bye Bye Redness Neutralizing Correcting Cream, IT Cosmetics CC+ Eye Color Correcting Full Coverage Cream and IT Cosmetics Your Skin But Better CC Cream with SPF 50+. To give the look an edge Romy adds metallic detailing around the eye. The result is fashion-forward, but still subtle enough for a bridal look. Romy creates this using IT Cosmetics No-Tug Waterproof Gel Eyeliner, Slate followed by IT Cosmetics No-Tug Waterproof Gel Eyeliner, Highlight for a custom silver blend. She lines the inner crease underneath the lash line all the way up towards the eye, bringing the line above the crease into a wing shape. "We wanted to do something graphic and modern, but still pretty," Romy explains. Lips are flushed nude using IT Cosmetics Vitality Butter Gloss in Perfect Nude and IT Cosmetics YLBB Your Lips But Better Waterproof Lip Liner Stain, Blushing Nude. "We wanted to keep it fun and light," she describes of this cool girl look.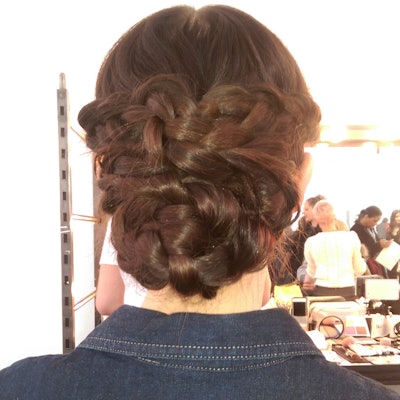 The hair at Lela Rose is soft and fresh. "A bride should be herself; she should do something that flatters her," says lead stylist Jennifer Yepez. "Hair shouldn't be too done, teased or stiff." To get this look, she separates hair into four braids, twists the two bottom braids together to get a loose romantic bun, and then takes the two front braids, twists, and wraps them around the same bun. She makes sure not to use too much hairspray to avoid any stiffness; the hair is up but it should still flow. Jennifer uses Texturizing Salt Spray, Foaming Volumizer, Tousled Texture Finishing Spray and Flex Hold Shaping Spray, all by Macadamia Professional to get this modern updo.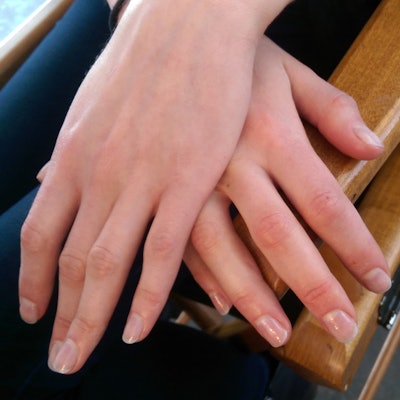 Nails reflect beauty; the look is a clear pink with a fine glitter to match the winged metallic liner. Lead manicurist, Gerry Holford, creates the look with Londontown Lakur in Princess Awaits. "We wanted a nice look that wouldn't clash, and fine glitter works really nicely with that," she explains of the effect. For the DIY bride, add fine glitter to polish for an eye-catching shimmer. Gerry finishes nails with one layer of Londontown Top Coat and cuticle oil to keep nails fresh.