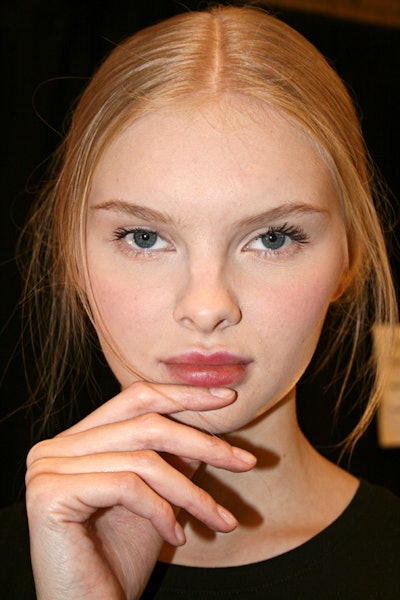 If ever there was a fitting inspiration, this is it: The design duo behind fashion label Marchesa took their collection's cues from the portraits Edwardian painter John Singer Sargent created of high-society ladies. Certainly, Marchesa gowns dress today's upper echelons of society, and the opulence and glamour associated with the beau monde motivates not only the wares but the accompanying backstage beauty too.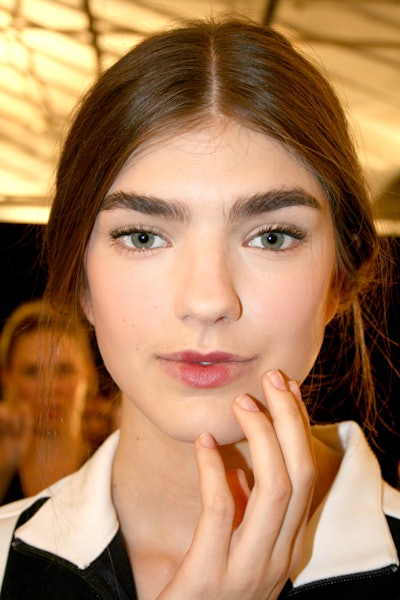 Lead Makeup Artist Bobbi Brown focuses on recreating the feminine and powerful 1800's woman depicted in Sargent's portraits—their creamy and unblemished complexions a hallmark of the paintings. The look is, of course, in true Bobbi Brown fashion: Simply a soft face with silky skin and a cherry-stained lip. Brown explains that the key products are the Bobbi Brown Cosmetics Retouching Pencils and Retouching Powder. "We wanted the girls to look flawless, but with a romantic feel," says Brown. "The retouching products make skin look like it was retouched after you use it. It's going to be a trend for Fall. It's not thick, it's not even sheer, but it looks like it was painted on."
The nails befit a Sargent subject; they're simple and sophisticated. "The designers wanted to let the clothes be the focal point and go back to the basics with the nail look," explains Zoya Lead Manicurist Naomi Gonzales-Longstaff. "We created a simple, clean and elegant nail look for the show. It's natural and pink." After filing the nails, keeping them short and square, she applies Zoya Naked Manicure Base followed by two coats of Naked Manicure Pink Perfector. She completes the look with Naked Manicure Glossy Seal for a super shiny finish.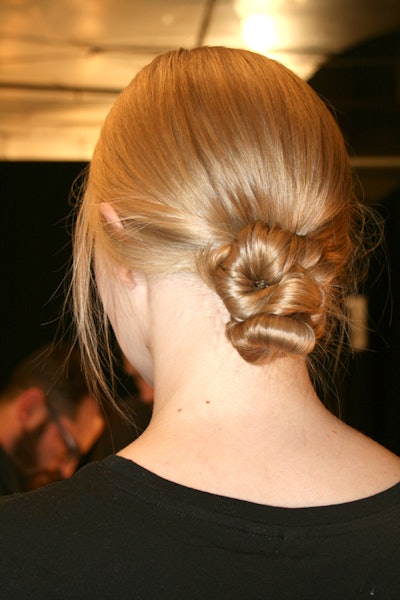 Moroccanoil Creative Director Antonio Corral Calero works with two hairstyles backstage: a low twisted bun that presents as a knot on models with shorter hair and an "undone chignon" inspired by a basket weave on models with longer, fuller hair. After Calero parts hair down the middle, he pulls it back low, covering the ears. For the twisted knot, he twists the sides of the hair back and secures the lengths into a low ponytail. He separates the tail into two, and then twists each section before roping the two twists into each other and securing with pins. For the basket weave, Calero first creates a half-up ponytail, secures it with an elastic, and wraps the elastic with hair. He then gathers the lengths and the ponytail into a second tail, secured at the nape, which he then wraps at the base with hair. From here, Calero deftly weaves the tail into a succession of loops and twirls that he secures into a woven pattern. For both looks, Calero preps the hair with Moroccanoil Treatment and Thickening Lotion and finishes with Luminous Hairspray Medium. Also twinned between the looks: Flyaway pieces and baby hairs are released for a whimsical, airy effect that would look beautiful in a portrait painting.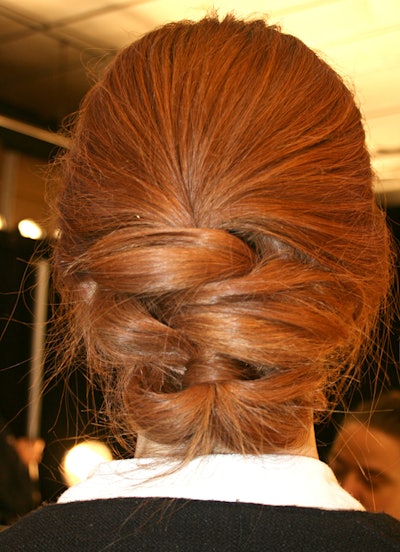 [Images: Kristyna Kane]