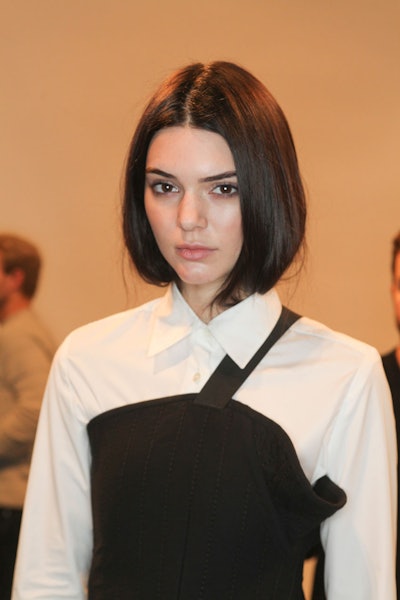 Designer Vera Wang is known for her long and clean silhouettes, and her Fall 2016 collection keeps this sleek chic in place, influencing the accompanying beauty along with such inspiration as the feminine portraits of painter Modigliani and lean sculptures of Alberto Giacometti.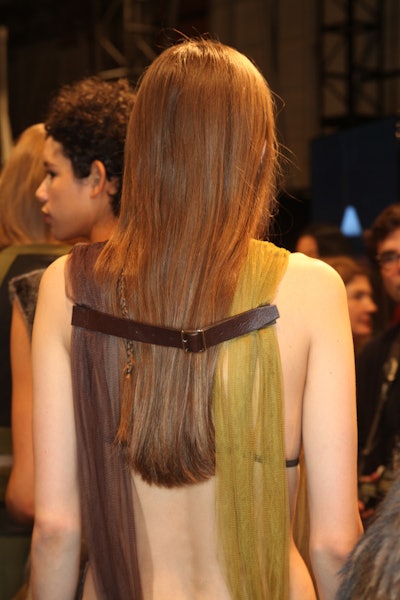 Pai-Shau Hair Lead Paul Hanlon captures the essence of the theme by keeping the hair natural and straight. "It's not really a hairstyle, there's not really a look for it," admits Hanlon, adding, "It's more a feeling." The key to this "feeling": the quality of the hair and its texture, which Hanlon perfects with Pai-Shau Biphasic Infusion. "This is the main product today. It's basically a primer. It's light and non-greasy; adds shine; and is great pre-blow-dry," he continues.
A bit of Pai-Shau Style Style Souffle is also worked into the hair from mid-lengths to the ends. Once the hair dries, Hanlon crafts two small braids behind the ears for subtle detail. He then center-parts the hair and tucks it inside a clear elastic band to keep it controlled and contained. "All the girls are wearing super high collars, so the hair will be hidden inside," he explains. "The reason for this is the silhouettes are extremely long and Vera loved the idea of keeping the hair small to the head with no volume."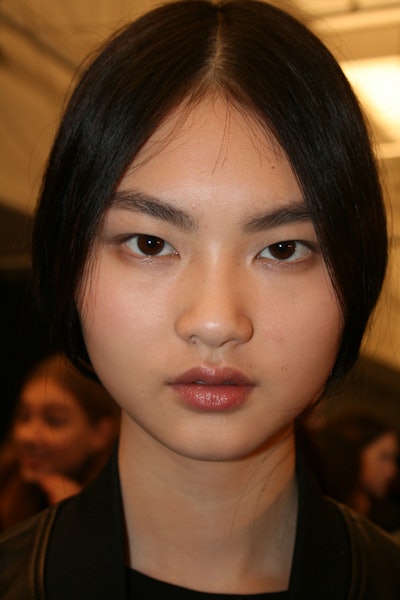 As for the makeup, "it's simple and all about light shades," says Clé De Peau Beauté Creative Director Lucia Pieroni. Working with the line's new cream eye shadows, she creates iridescent washes with nude over the entire lid, accentuated with a hit of icy blue (Clé De Peau Beauté Cream Eye Color Solo 306) on the top of the lid and a bit of black (Clé De Peau Beauté Cream Eye Color Solo 307) smudged into the mascara line. "We created this kind of dewy, slightly wet-shaded look," she says.
Highlighter (Clé De Peau Beauté Luminizing Face Enhancer 16) pops the cheeks and top of the nose. A dab of peach blush (Color 105) on the apple of the cheeks brightens and freshens each model's appearance.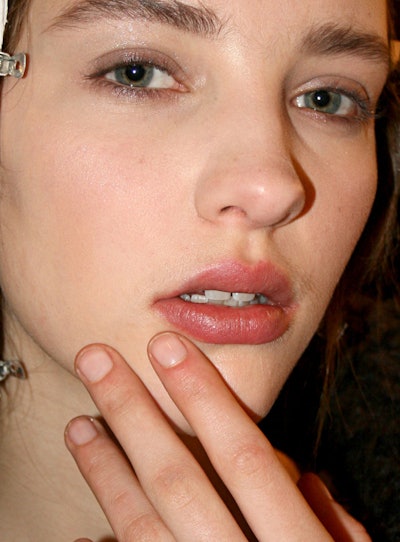 The nails are as simple and chic as Vera Wang and her collection. Inspired by the elongated silhouettes in the collection, JINsoon nail lead Jin Soon Choi chooses JINsoon Top Gloss to complement the streamlined look. "The clear color actually makes the nail look longer," claims Choi.
Images: Courtesy of Pai-Shau; Kristyna Kane