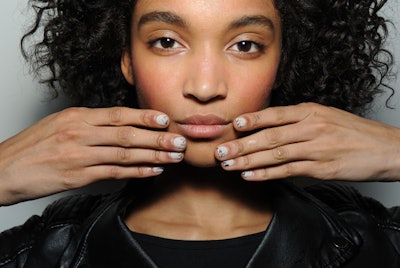 As the snow falls in Manhattan on Monday afternoon, the beauty teams backstage at Zero + Maria Cornejo bring a bit of the arctic weather indoors with winter-rosy cheeks and down-to-earth hair. As the models rushed in from the cold, Shiseido Artistic Director Dick Page recreates their winter-rosy cheeks for the runway. "Maria told me to make them look like they came in from the cold. It's really not complicated," explains Page. "The collection opens with a lot of layering, heavy fabrics — it's very bundled up with scarves. The look made sense. Maria wanted them to have a freshness about them from the cold."
Page smudges Shiseido Rouge Rouge Red Queen (Fall 2016) into the cheeks, down the jawline and on the bridge of the nose. A little shine is created on the eye mixing Shiseido Shimmering Cream Eye Colors in Sable, Shoyu and Yuba with Benefiance Full Correction Lip Treatment. The lips are left basically bare except for a small dab of Rouge Rouge in Ruby Cooper.
For the hair, Phyto and Hot Tools Hair Lead James Pecis keeps loose and lank. "We are bringing it back to nature! We're doing what we all love: natural hair," says Pecis. He begins by parting the hair down the middle, and prepping strands with PHYTO PhytoVolume Actif Volumizing Spray. He then twists hair into two large sections before blow-drying them. With Hot Tools 1 ½" Marcel Curling Iron, he creates "S"-shaped waves from the top of the head down. "The 'S' gives it a flatter look that's more natural," explains Pecis. Spraying PHYTO Workable Holding Spray on the hair underneath around the ears, he builds an anchor for the ensuing bobby pins. PHYTO Professional Matte Texturizing Paste is worked into the crown of the head to give it a bit of messy texture. He finishes the look by sweeping two front sections of the hair back behind the ear, and securing them with bobby pins.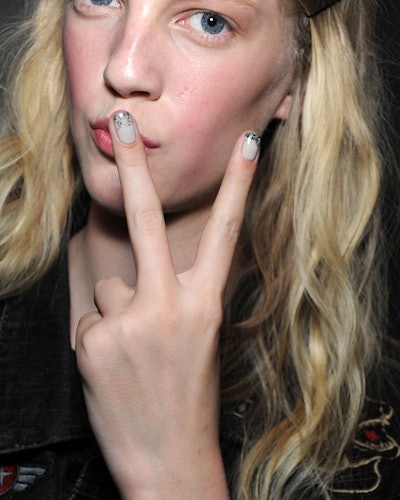 Things got a little more down and dirty when it came to the nails, with a design inspired by a woman digging into the earth. "The graphic nature of the idea came from a pair of boots in the collection," explains Morgan Taylor Lead Manicurist Danielle Candido. First, she paints the softly rounded nails with a coat of Morgan Taylor in Birthday Suit followed by a coat of In the Nude. "We wanted the base of the nail to look as if it was cold," she says. She slathers a piece of a kitchen sponge with Little Black Dress and then hits the nail once at the edge with the sponge to create specks of black — like little pieces of dirt. "It's just a pop onto the edge of the nail. We didn't want it to look smeared or faded," Candido says.