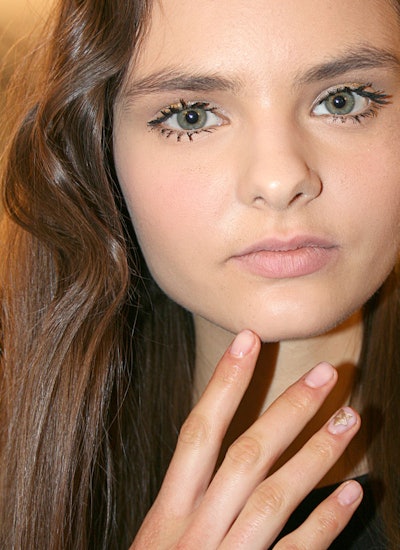 Glitz and glamour set the stage for beauty at the Jenny Packham Fall 2016 show. Inspired by both the hedonistic Parisian club scene in the '80s and '90s as well as a collection brimming with sequins, Lead Makeup Artist Bobbi Brown dreams up a girl with a soft brow, a bit of glitter and very clumped mascara. "It's how you look when you go out — and then how you look the next day," says Brown, adding "but it's still a very sweet, cool girl."
Brown starts perfecting the skin with Bobbi Brown Skin Foundation Stick, Retouching Powder and Retouching Pencils. "We want to make her look like she was retouched, basically," explains Brown. "It doesn't look like makeup on the skin." Using her finger, Brown applies Sequin Eye Shadow in Wine and Chocolate Collection (Holiday 2016) to the lids and slightly on the top of the cheekbone. Pink Retouching Powder is blended onto the cheeks for a flushed look. She dabs the lips with Dusty Pink Art Stick before coating the lashes heavily with Eye Opening Mascara. She finishes the look by using her fingers to pinch the lashes together for a clumpy effect.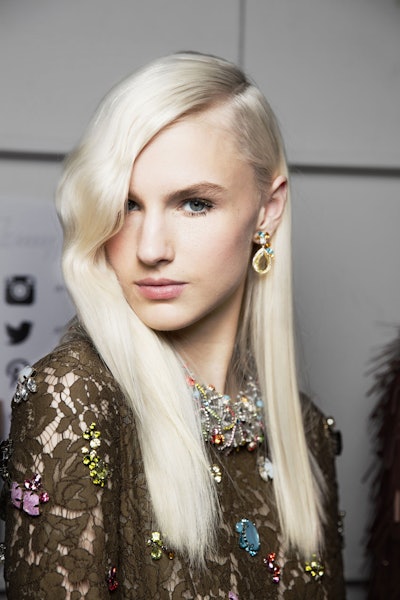 Aveda Guest Artists Frank Rizzieri and Kevin Ryan bring a modern twist to old Hollywood glamour, drawing inspiration from the collection's modern-yet-vintage feel. The result: super-sleek hair with a waved part that falls dramatically over one eye. "This is a street-vibe version of that classic Hollywood starlet look with elegant waves and a deep side part," Ryan explains. "It's strong, vibrant and modern."
Rizzieri first creates a deep side part on the left side before prepping the hair with Aveda Thickening Tonic. He blow-dries strands straight and then flat-irons for extra sleekness. He pulls a section of hair from the part and wraps it around a double-barrel iron, about four inches down from the roots. He repeats this two more times on other sections of the part in the same area, baking in a modernized wave. Using his fingers, he loosely combs out the waves to expand them and emphasizes their swells and bends with Aveda Brilliant Spray-On Shine.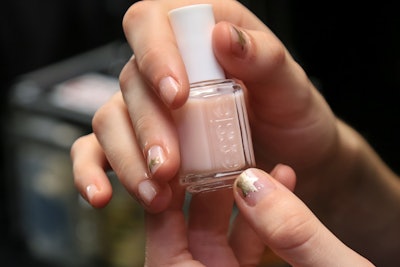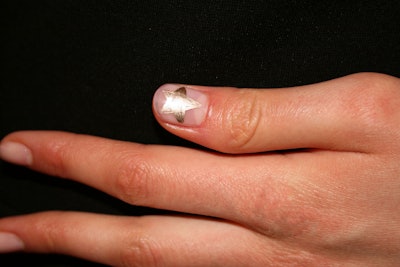 For the nails, a single dress in the collection caught Essie Lead Manicurist Michelle Saunders' eye, leading her to create a "star studded" manicure. Using a small nail art brush dipped in Essie Good as Gold, Saunders hand draws two gold stars over two coats of Essie Mademoiselle. The petite stars float on the thumbs and a random finger on each hand to give more visibility to the design on the catwalk. "It's nail art, but what I love about Jenny Packham is that she loves nail art that's done in the most elegant way," she says. "You could wear [this look] with a red carpet dress." Here's hoping we see it realized on the real red carpet!