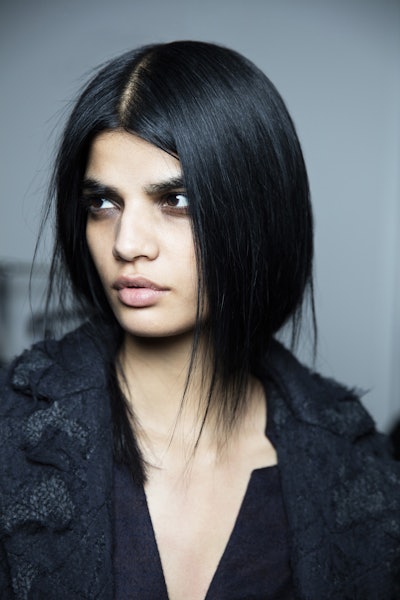 When the temperature drops, hair tends to suffer. Whether it's kept down or pushed back, a definitively cool style on the coldest days of winter is rare; hair usually takes a backseat to a hat or scarf. At Public School, Allen Ruiz, Aveda Global Artistic Director of Hair Styling and the show's Hair Lead, doesn't shy away from the elements; instead, he takes inspiration from them. For an innovative take on weather-ready hair, Ruiz creates an "in-and-out faux mini-bob." It's "designed to keep hair sleek and cool," he describes, "while its wearer navigates through the lawless elements of nature — all with a sense of determination and attitude." The style perfectly tucks into a collared coat, and is eye-catching enough to command just as much attention inside. There isn't just one uniform texture to this style; Ruiz embraces the models' natural hair texture. "It's a Public School girl so they're all going to be different," Ruiz comments. "It's a bit messy but we're not going grunge." The style is informed by, "the '70s Bronx with a bit of a Western hint to it."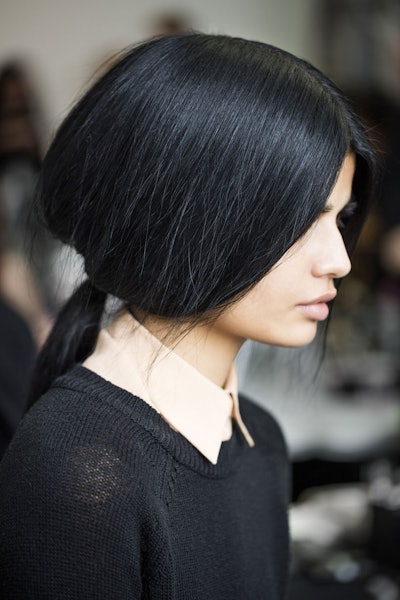 First, Ruiz preps with Aveda Smooth Infusion Nourishing Styling Crème. He then creates a small, hidden braid from ear to ear at the back of the head to act as an anchor. Next, he pulls hair into a low ponytail, securing an elastic around it about two inches below the nape of the neck. While hair is back, he takes the elastic base and moves up to where the hidden braid rests, pinning the elastic to the braid to set the final faux bob style. Ruiz finishes the look by spraying Aveda Control Force Firm Hair Spray.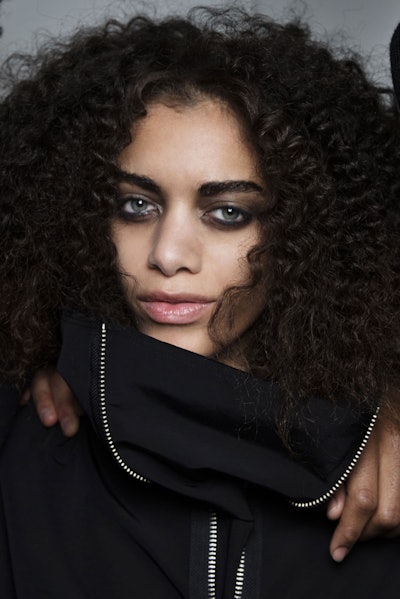 This cool-girl aesthetic — one that has become synonymous with Public School — informs the makeup. "She's tough, and fighting for the greater good," says Maybelline Makeup Lead Grace Lee. "She's very 'street style.'" The skin is left as is; "skin is raw," explains Lee. "It's almost going against anything you would normally do with makeup—there's no concealer under the eyes." If any redness needs to be toned down, Grace applies Maybelline FaceStudio Mast Prime Blur + Redness Control Primer. "We actually quite like that they look tough and weathered; they haven't slept—they've been fighting all night," she details. To get this "Warriors" inspired style, Grace mixes Color Sensational The Loaded Bolds Lip Color in Pitch Black (launching in June), Eye Studio Lasting Drama Waterproof Gel Pencil in Smooth Charcoal and Baby Lips Lip Balm in Quenched all around the eye. "It's very imperfect — they're not supposed to look pretty; it's like they smudged their black warrior paint with their fingers themselves. It's about making the girls look rough," she adds.