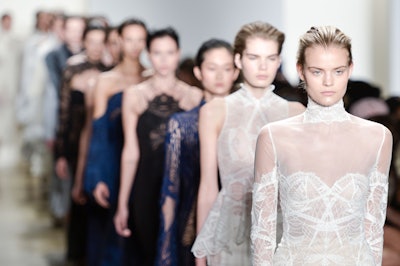 As an arctic chill descends in New York during Fall 2016 Fashion Week, the only way to beat the cold is to embrace the "Frozen Goddess" within. Jonathan Simkhai's collection is devoted to this captivating snow beauty, whose hair is far from prissy. "She's always polished but she's not prim," TIGI Hair Lead Thomas Osborn says. "It's not hair that's fussed over at all," he adds. The muse is far from a typical; she's active and on the hunt. "The idea was this windswept look—it's like this frozen goddess that's foraging through the arctic," he says. For this look, there's no holding back on products. "Each of the girls probably has about a half a can of CATWALK by TIGI Bodifying Spray to make the texture more pliable," Osborn says. "We've left the front hair line out and ironed it back, not to make it straight, but to give a little more separation to the hair." He works in CATWALK by TIGI Work It Hairspray over the top "so that pieces coming out of it almost look frozen." The style is more of a "knot than a braid." Osborn starts out as though he's creating a typical three-strand braid, but the first crossover becomes a knot. "The designer liked the idea of a braid, but didn't want it to look braided," he explains. After more hair-knotting, Osborn uses a touch of CATWALK by TIGI Camera Ready on hair for icy shine.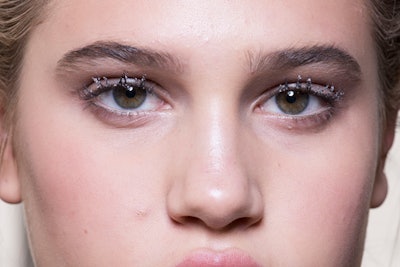 Coming in from the cold and the beauty of a natural face inspires Maybelline Makeup Lead Erin Parsons. "I imagined this woman coming off the ski slopes. She's a little cold, flushed and quite dewy. She looks gorgeous but she doesn't have that much makeup on," she says. To create the flush, Parsons brushes Maybelline Color Sensational Lip Color The Bolds Lipstick in Raging Raisin downward on cheeks. "You're not really seeing it, it's just a romantic effect," she adds. For the eyes, Parsons creates tone using Eyestudio Lasting Drama Waterproof Gel Pencil in Glazed Toffee, concentrating the color in the crease and brushing out, to get the "softest, subtle tone." The Nudes Palette is layered over eyelids; Parsons also applies it to the lower lashes. Thinking outside the box, Erin uses Eyestudio Lasting Drama Waterproof Gel Pencil in Soft Nude as a highlighter. "It's milky; it's like butter," says Parsons of the gentle liner. Parsons adds Eyestudio Brow Drama Sculpting Brow Mascara in Transparent for brow definition, and Baby Lips in Quenched to add a touch of dew to lips. As the piece de resistance for Simkhai's frozen goddess, Parsons lays a touch of eyelash glue mixture to the tips of lashes to look like snow has collected on models' eye fringe.
When it gets to be a certain temperature, all you really need is a sweater. And if you're a frozen goddess, you channel the warmth of a sweater on nails with a cable-knit pattern (naturally!). "She's a girl coming in from the cold," Essie Nail Lead Rita Remark echoes of the inspiration. Simkhai wanted to match the nails exactly to the design, which is a trend Remark notes she's been noticing; it used to be about an "accent color," but this season designer's want nails to match their clothes perfectly. In order to parallel the collection, Remark uses five different Essie polishes—Find Me an Oasis, Wrap Me Up, Midnight Cami, Marshmallow, or All Eyes on Nudes—"one for each segment [of the show]." To achieve the design, Rita applies two coats of one of the four colors and then tops them with Essie Matte About You. "We wanted to add that velvety dry finish to the nail lacquer," Remark explains. To bring in the cable-knit design on the middle and ring fingers only, she uses a stellar—and easy!—trick: Drawing the design using a glossy top coat (Essie Gel.setter Top Coat) with a striping brush. "You really get a definition and a difference in texture [matte vs. gloss], so the nail almost looks 3-D," she says.
[Images: Courtesy of Maybelline; TIGI; Essie]