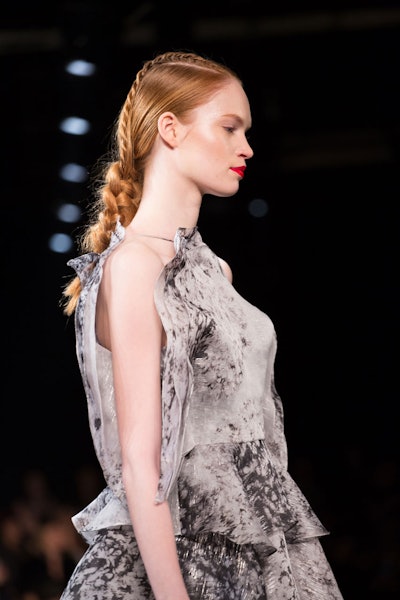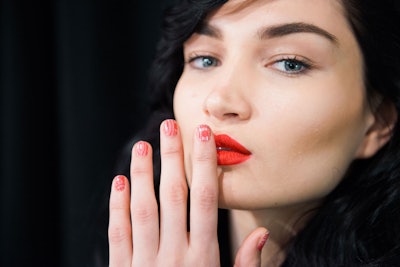 The beauty at Fashion Week typically derives from some sort of interpretation or spin on the designer's inspiration, but at Christian Siriano's Fall 2016 showing, the nail design is a literal and exact match. Collaborating with Jamberry on two custom nail wraps for the show, Siriano sent the brand fabric swatches from his collection, which is inspired by Sheila Hicks' "The Art of the Yarn" exhibit. The end result: Nail wraps that cover tips in prints that translate and mimic the accompanying wares beautifully. Think: a grey-and-white marble glossy wrap  and a glossy red negative space lace design.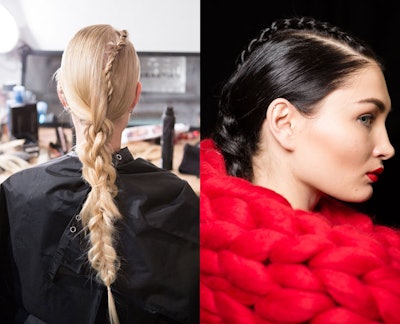 With artful weaving as the inspiration behind the collection, Sebastian Professional Lead Stylist Anthony Cole opts for a braided hair design with an androgynous feel. "Christian wanted to put a little masculinity in his collection but with softness," he says. "So I thought it would be really great to slick the hair back, make a two strand braid that gives off a really strong masculinity in the front and [pull that into a] really soft four-strand braid so I would get that woven feel in the hair." To create the look, Cole mists damp hair with Sebastian Professional Trilliant and works in Sebastian Professional Mousse Forte before blow-drying the models' tresses straight. He then brushes locks into a side part and works Sebastian Professional Eruptek into the models' hair with his fingers as he crafts a two-strand braid and weaves that into a four-strand braid. "When I'm deconstructing the braid, I use a little bit of Eruptek with my hands so I can really open up the braid, have control and at the same time get a matte texture," he explains. Cole finishes with a spritz of Sebastian Professional Zero-Gravity on the braids and Sebastian Professional Shine Shaker on the rest of the hair. As far as the design: "Mixing all the braids into one another gives it a cool, soft quilted look!" he says.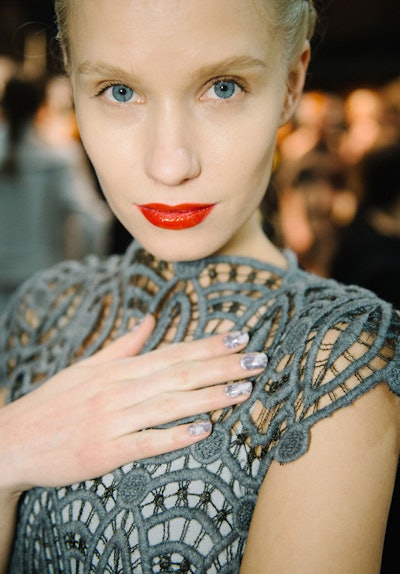 MAC Lead Artist Polly Osmond came up with a title for her makeup design: "'Juxtaposition.' The glossy face and really high-gloss lip are a contrast with the heavy wool clothes [in the collection]," she explains. To get the gorgeous glow, Osmond applies MAC Gloss Texture to the high planes of the face and then fills in lips with MAC Chromographic Lip Pencil in Basic Red and MAC Retro Matte Liquid Lip Color in Fashion Legacy, which she then tops with MAC Gloss Texture. "All I had was [the girl's from Robert Palmer's video] Addicted to Love in my head!" she laughs. On a more serious note: "The red lip can be quite masculine but it can also be super feminine. It's a strong look but really simple and very wearable!" she assures.