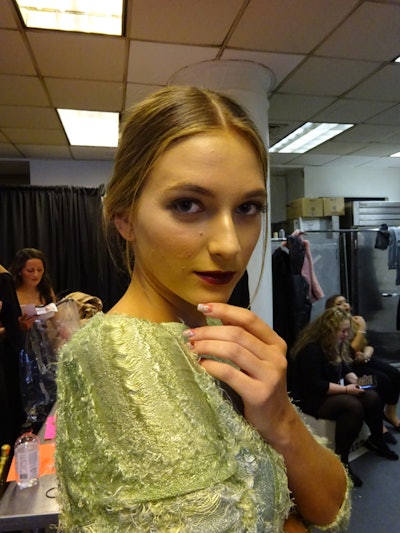 Raul Peñaranda's Emerge Collection was inspired by a woman who feels free and beautiful; she is "coming out into the open," explains Josephine Fucso, key makeup artist for the collection. The look relies on an "ethereal, glow-y" deep wine lip. The dark lip stood out against clean skin, pulled-back hair and a minimal eye—albeit, with long lashes. To get the look, Fusco used Tango in Paris Aniise by Patricia de León Lipstick, SmokeandMirrors Eyelashes, Ellis Faas Skin Veil and TheBalm The Manizer Sisters Luminizing Collection.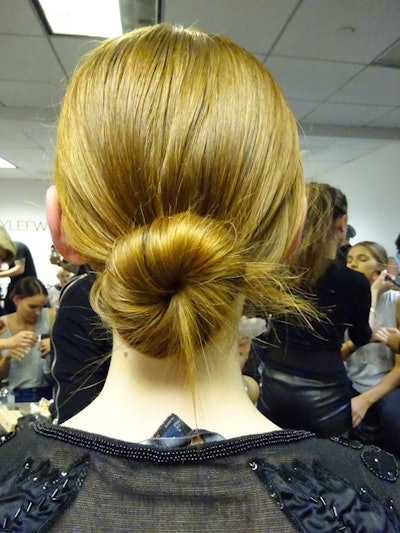 To complement the classical yet simple beauty look, Davines lead stylist Joseph DiMaggio crafts hair into what he describes as "a swirly bun," not to be confused with "a perfect ballerina bun." He blows-out and preps tresses using Davines Blow Dry Primer, creating "a beautiful canvas to work on." The hair is then separated from ear to ear, with the front split from the center parting. DiMaggio then gathers the back section into a low ponytail and secures it with an elastic cord. He carefully pulls up the sides and blends them into the back using his hands, making sure hair falls over the ears. From there, hair combines into the same ponytail base, where it's wrapped, looped around, pressed flat, pinned and sprayed with Davines Medium Hairspray. "If a little bit of the ends come out, it's cool, I like it," explains DiMaggio. "It looks like she did it herself."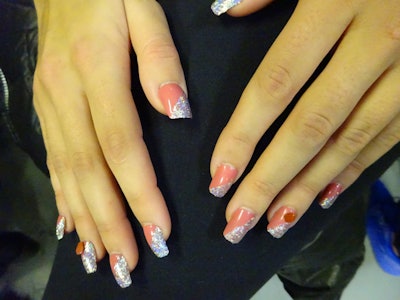 Meanwhile, natural nails take on a whole new meaning; "nails are neutral but with stones," explains Mr. Luis for INM Nails. The show's lead manicurist, 15-year-old Alanna Wall, founder of Polished Girlz, dreamt up the earth-derived design, blending real rocks, seashells and metals into the squared-off nail. To support the nail art, she incorporates INM Nails Elegant Rose and Storm shades for a color palette that enhances this new "natural" nail.