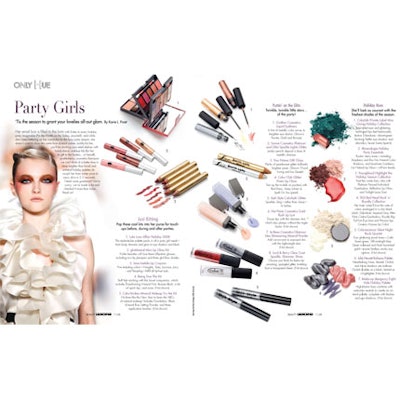 'Tis the season to grant your lovelies all-out glam.
Her email box is filled to the brim with Evites to every holiday party imaginable (Pin the Wattle on the Turkey, anyone?), and while she's been fattening up her wardrobe for the busy party season, she doesn't want to show the same face at each soiree.
Luckily for her, you'll be stocking your retail shelves with handy-dandy makeup kits (for her to gift to the hostess…or herself), sparkle-heavy cosmetics (because we can't think of a better time to shine brighter than tinsel) and on-trend holiday palettes (to morph her from winter pixie to saucy diva in 2.2 seconds).
Need some guidance? Not to worry; we've made a list and checked it more than twice. Read on!
Just Kitting
Pop these cool kits into her purse for touch-ups before, during and after parties.
Lola Love Affair Holiday 2008—This triple-decker palette packs in all a party girl needs—from body shimmer and gloss to eye shadow and blush.
gloMineral Mini Lip Gloss Kit—Fickle beauties will love these Lilliputian glosses, including two lip plumpers and three gloGloss shades.
Jane Iredale Lip Crayons—Five tempting colors—Naughty, Tasty, Luscious, Juicy and Tempting—fulfill all lip-hue lusts.
Being True The Kit—Stuff that stocking with this travel companion, which includes Transforming Mineral Mist, Bronze Blush, a list of quick tips, and more. (Not shown)
ColorStrokes Mineral Makeup Try Me Kit—No time like the New Year to learn the ABCs of mineral makeup! Includes Foundation, Blush, Mineral Rice Setting Powder, and three application brushes. (Not shown)
 
Holiday Hues
She'll look au courant with the freshest shades of the season.
Colorlab Private Label Miss Giving Holiday Collection—Bejeweled eyes and glistening, red-tinged lips feel fashionably festive. (Standouts: vibrant-green Stocking Stuffer eye shadow and ultra-shiny Secret Santa lipstick)
Mineralogie Holiday Party Essentials—Rockin' berry tones—including Raspberry and Kiss Me Mineral Color Shadows, and travel-size Cranberry Ice Natural Lip Gloss—will turn heads.
Youngblood—Highlight the Holiday Season Collection Feel the winter fairy vibe with Platinum Pressed Individual Eyeshadow, Reflection Lip Gloss and Twilight Lunar Dust.
TIGI Bed Head Rock 'n' Royalty Collection—Her inner vamp'll love this suite of colors packaged in a chic black clutch. (Standouts: Imperial Gray After-Party Crème Eyeshadow, Royalty Big Fat Fun! Eye Liner and Princess Lips Creamy Mousse Lip Color)
Colorescience Silent Night  Rock Quartet—Four glistening jewel tones—Calm forest green, Still midnight blue, Quiet violet-red and Hush burnished gold—ensure limitless smoky eye options. (Not shown)
Julie Hewett Boheme Palette—Head-turning Muse, Vermeil, Orchid, and Azure shadows are multi-use: Orchid doubles as a blush, Vermeil as a highlighter. (Not shown)
Make-up designory Eight Hole Holiday Palette—High-drama hues combine with seductive neutrals to create an on-trend palette, complete with blushes and eye shadows. (Not shown)
 
Puttin' on the Glitz
Twinkle, twinkle little stars… of the party!
Grafton Cosmetics Liquid Eyeliners—A hint of metallic color serves to heighten eye drama. (Shown: Pewter, Gold and Bronze)
Sormé Cosmetics Platinum and Glitz Sparkle Lights Glitter—Jumbo pencils deposit a dose of metallic shimmer.
Your Name 24K Gloss—Flecks of pearlescent glitter brilliantly brighten pouts. (Shown: Mood Swing and Ice Queen)
Color Club Glitter Vixen Lip Gloss—Turn up the twinkle on puckers with Red Dress, Vamp (silver) or Spell On You (pearl).
Styli-Style Colorlash Glitter Sparkles cling—rather than clump—to lashes.
Hot Pants Cosmetics Gold Rush Lip Lust—Douse lips with this shimmer shot, which also plumps without the tingle-factor. (Not shown)
Je Beau Cosmetics Glamour-Lites Shimmering Mineral Powder—Add va-va-voom to exposed skin with this lightweight dust.  (Not shown)
Lord & Berry Clear Coat Sparkle, Shimmer, Shine—Choose your finish for festive lip-smacking: spangled glitter, twinkling frost or transparent sheen. (Not shown)