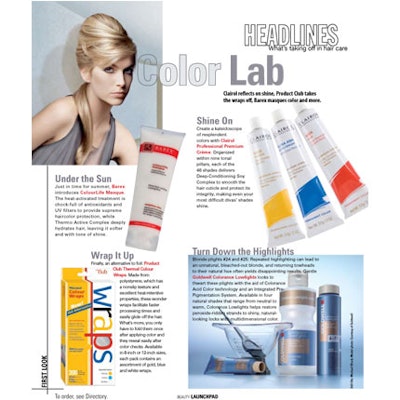 Clairol reflects on shine, Product Club takes the wraps off, Barex masques color and more.
Shine On
Create a kaleidoscope of resplendent colors with Clairol Professional Premium Crème. Organized within nine tonal pillars, each of the 46 shades delivers Deep-Conditioning Soy Complex to smooth the hair cuticle and protect its integrity, making even your most difficult divas' shades shine.
Under the Sun
Just in time for summer, Barex introduces ColourLife Masque. The heat-activated treatment is chock-full of antioxidants and UV filters to provide supreme haircolor protection, while Thermo Active Complex deeply hydrates hair, leaving it softer and with tons of shine.
Wrap It Up
Finally, an alternative to foil: Product Club Thermal Colour Wraps. Made from polystyrene, which has a nonslip texture and excellent heat-retentive properties, these wonder wraps facilitate faster processing times and easily glide off the hair. What's more, you only have to fold them once after applying color and they reseal easily after color checks. Available in 8-inch or 12-inch sizes, each pack contains an assortment of gold, blue and white wraps. Clairol reflects on shine, Product Club takes the wraps off, Barex masques color and more.
Turn Down the Highlights
Blonde plights #24 and #25: Repeated highlighting can lead to an unnatural, bleached-out blonde, and returning towheads to their natural hue often yields disappointing results. Gentle Goldwell Colorance Lowlights looks to thwart these plights with the aid of Colorance Acid Color technology and an Integrated Pre-Pigmentation System. Available in four natural shades that range from neutral to warm, Colorance Lowlights helps restore peroxide-ridden strands to shiny, natural-looking locks with multidimensional color.