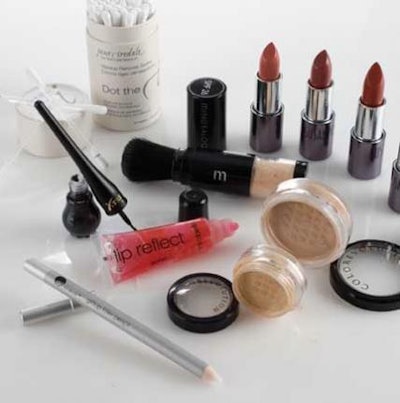 WEB EXCLUSIVE! Fill out your retail shelves with the newest cosmetics offerings.
Smears from tears are mishaps of the past thanks to Jane Iredale Dot the i, a travel-friendly eye makeup remover featuring a cotton tip that fills with remover when snapped at one end, allowing for quick and easy cleanup.
Click, brush and go! The refillable, self-dispensing Mineralogie DEMI Brush makes on-the-go touch-ups a snap; carries up to six grams of her favorite Mineralogie powder; and features soft, goat hair bristles for gentle application.
With lipstick, flattering gets you far. Susan Posnick Cosmetics Coloressential lip color collection identifies the most universally flattering hue for each major color group (red, berry, pink, coral, and nude), and delivers it in an antioxidant-rich formula. Bonus! A magnetic lid ensures no in-purse makeup slipups. (Shown: Milan red, NYC berry, Dallas pink, South Beach coral, and Dubai nude.)
It's the bee's knees for skin! Limited edition Colorevolution Hydrating Honey Glow Mineral Makeup and Honey Infused Mineral Eye Shadow contain organic honey extract to hydrate and soothe with the added benefit of helping makeup better adhere. (Shown: Raw Honey Hydrating Honey Glow Mineral Makeup and Honeycomb Honey Infused Mineral Eye Shadow)
Reflect on this: Mirabella Beauty Lip Reflect Polish lends puckers a hint of candy-applekissed shine with a formula that softens via sunflower seed oil and refreshes with peppermint extract.
That twinkle in her eye may be courtesy of Xtreme Lashes Wishful Blinking Eye Shine, a shimmer-packed liquid liner that contains eyesoothing calendula and chamomile extracts and is available in five shades, including sultry Arabian Night (shown).
Lipstick slips sink loose lips—unless she's primed with gloMinerals gloLip Filler Pencil. The liner-primer addresses feathering and fading by plumping fine lines with hydrolyzed wheat proteins and Vegetal Filling Spheres, as hyaluronic acid draws moisture into the lips and ceramide 3 supports renewal of the skin's natural protective layer.