Courtesy of milk_shake
milk_shake is sharing three new launches for salon professionals this fall. 
Learn more about the releases below. 
 milk_shake Level 9 Lightener

milk_shake is announcing the expansion of their light catcher spotlight range with the launch of their new Level 9 Lightener. As the brand's most powerful new lightening powder to date, it lifts up to 9 levels while maintaining the health and vitality of your clients' hair.
This lightening product is suitable for all lightening techniques since it can be used freehand or with techniques like foils, meche or stripes. It features a non-drip, no-swell formula that is easy to apply. Also complete with new packaging, the innovative light catcher smart bags are easy to use and are made with just 30% of the plastic used for traditional packaging.
milk_shake light catcher spotlight is an extraordinary range developed to create radiant, intense blondes, from the most natural-looking to the most extreme and creative looks. Spotlight makes it easy for the salon professional to achieve color and lightening results on the hair with beautiful touches of light that are fresh and exciting. Light catcher spotlight is formulated with milk_shake's signature milk proteins for hair strength and avocado oil— a powerful, vitamin-rich ingredient for healthy, shiny hair.
Milk proteins provide a detangling and conditioning, helping avoid the stiffening of the hair caused by the lightening process, improving the hair's appearance and structure while avocado oil and its vitamins are a natural restructuring ingredient for the hair, a real beauty elixir that makes hair shiny and strong.
No two blondes are alike and the ability to adapt is key to achieving the perfect blond. Light catcher spotlight provides you with the tools you need to create any blond you can imagine.   
milk_shake incredible milk 

milk_shake is celebrating 10 incredible years of one of their favorite leave-ins – incredible milk!
With gorgeous new packaging and a brand-new jumbo 250mml size (that's an extra 100m), this new limited edition bottle features the artwork of Italian artist Cecilia Castelli, a young artist with a dreamy, feminine style. Creating exclusive illustrations just for milk_shake, her design depicts beautiful hair with different shapes and colors to show how incredible milk can take care of every type of hair (color-treated, natural, fine coarse, straight or curly), catering to all hair types and celebrating inclusivity. It is the perfect birthday present back to all of the product's loyal customers!
milk_shake insta.light shampoo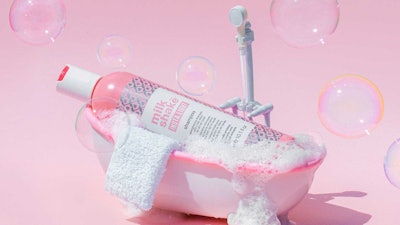 milk_shake is announcing the launch of their new insta.light shampoo, a product option associated with their insta.light in salon lamination hair service.
The creamy texture, combined with the irresistible peach fragrance, makes this shampoo an enjoyable experience at the backbar. Now, clients have the option to take this shampoo home with them!
milk_shake insta.light shampoo is a strengthening shampoo with a filler effect for all hair types. It gently cleanses and makes hair easy to comb, leaving it soft and shiny. It is formulated with fruit extracts that provide vitamins and precious minerals, giving elasticity and making the hair stronger.
insta.light shampoo is a signature step of insta.light - milk_shake's in salon lamination service that reflects light to give you super sleek, shiny hair that lasts up to three washes.
We've all heard of brow lamination — a service that transforms brows that are sparse and unruly into in the fuller-looking, face-framing brows we all crave. With insta.light, milk_shake is bringing these results to hair!
To find a milk_shake salon near you, please visit: https://www.milkshakehair.com/pages/find-salon