Courtesy of Matrix
Matrix is introducing its latest innovation in acidic demi-permanent color, Tonal Control Pre-Bonded.
This revolutionary formula features Real-Time Visible Oxidization technology, allowing Tonal Control shades to gradually deepen as they process, so that stylists have full control of their results and know exactly when to rinse. Toners going "too dark, too quickly" is the number #1 toning problem stylists face today, but with Real-Time Visible Oxidization, there's no more fear!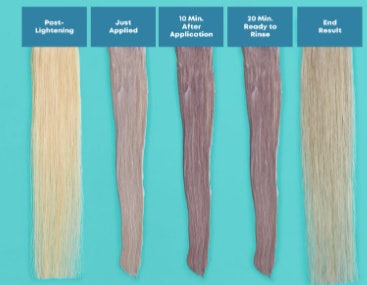 Tonal Control features 17 glossing + toning shades and provides long-lasting, multi-dimensional results that feel healthy and look shiny. Tonal Control formulas and packaging are also color-coded to make formulating fun, predictable, and super creative. The color represents the dominant reflect of each shade: blue for cool ash reflects, purple for cool violet reflects, green for neutral jade reflects, tan for neutral warm reflects and pink for warm red reflects. The color lasts up to 24 washes.
Tonal Control's gel texture makes it ideal for creative toning techniques.
"My signature Tap + Tone Technique using the new Tonal Control toners will teach you a quick and efficient way to modernize your blending and contour the hair," says Matrix Brand Ambassador, Sharon Spellman. "The Tap + Tone Technique is perfect for all hair types and textures!" 
Tonal control allows for ultimate creative control with its no-drip gel formula that is vegan and ammonia-free, so you can apply with a brush or a bottle. 
How-To: 
Mix in a 1:1 ratio with 10 Vol. Matrix Cream Developer.
Apply to hair using a bottle for global gloss applications or a brush for precise technique work.
Process at room temperature for 20 minutes before rinsing.​
Matrix Tonal Control is set to launch in April and will be available at professional beauty distributors.