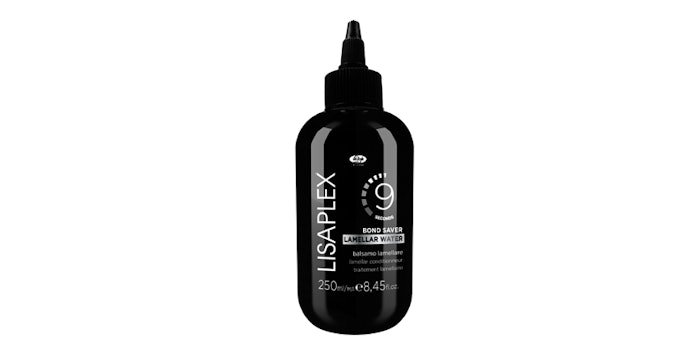 Courtesy of Lisap Milano
The Lamellar Water BondSaver is a restorative hair treatment formulated with lamellae, a compound that works to target damage in nine seconds.
Key Benefits of Lisaplex Lamellar Water BondSaver:
Lightweight liquid that penetrates the hair cuticle to close the cuticle and increase shine.
Restores the hair in nine seconds by repairing damage caused by heat, color services, chemical treatments, environmental stressors, brushing and combing.
Formulated with Vegetal Protein Complex to strengthen the integrity of the hair.
Ideal for all hair types
Makes the hair shinier, fights frizz, increases style manageability, speeds up drying time, detangles and smooths the hair.
Add-on service that can be used in-between color appointments.
Customizable and can be followed with a conditioner mask, Lisaplex HairStructure Filler or a combination of products depending on the hair's needs. 
This is the first product from the Lisaplex BondSaver line and will be followed by a BondSaver shampoo, conditioner, mask and cream, which will be released later this year.