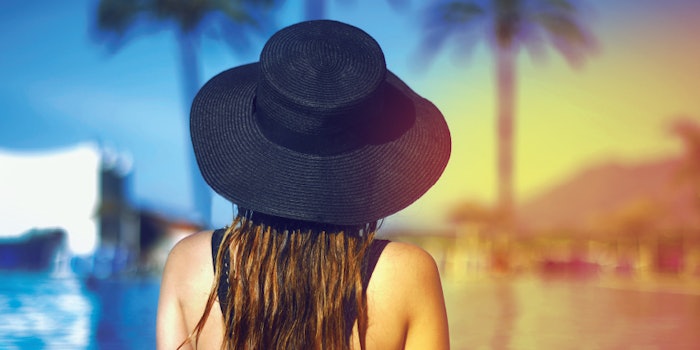 Everyone loves summer's longer days and carefree play, but a full season of frolicking takes its toll on manes. Pros point to a multitude of damage caused by summer's favorite activities, like sunning and swimming in the pool or ocean water. Educator and salon owner Rachel Rush shares her top tips for rehabbing clients as we usher in the cooler climes of autumn.
Rush points out that chlorine from swimming in a pool can strip hair of its natural moisture, resulting in breakage. "These damaging effects come with more frequent exposure versus the occasional swim," Rush explains. "It can also do a number on your color or even natural hair color, as well as weaken hair, leading to split ends." Tactics that can help clients include showering and getting hair wet before and after hitting the pool; coating hair with a deep-conditioning mask; and using a swim spray or swim cap for protection.
Even on dry land, negative effects from the sun also take a toll. "If hair has prolonged exposure to the sun, UVA and UVB rays can damage the cuticle," Rush notes. To combat this type of damage, Rush reaches for a treatment that removes chlorine and bromine, along with other minerals and metals. "Be sure to schedule the client for regular trim maintenance. If she wants to keep her hair long, book her for a fresh snip every 10 weeks to keep split ends at bay and prevent damage from traveling up the hair strand," Rush advises.
Finally, Rush urges, it's important to manage your client's expectations when it comes to rehabbing her hair. "Educating and helping your client understand what to expect when it comes to maintenance will develop trust within the business relationship and result in the client being more invested in their hair," she says. "It will help both parties make better decisions when it comes to creating a hair health game plan."
Mane Saviors
Tap these therapeutic products to aid in post-summer hair salvation.
Kenra Professional Platinum Rapid Hydration Masks, available in Light for fine hair and Rich for medium to coarse hair, work to bring strands back to life in just three minutes. 
Malibu C Swimmers Wellness Remedies remove chlorine, copper and other pool elements to reveal shinier, healthier and more vibrant hair on even serious swimmers. 
Nutrafol Growth Activator Ashwagandha Exosome Hair Serum boasts a lightweight formula that promotes cellular renewal on the scalp for thicker-looking, stronger-feeling hair. 
Oligo Professionnel Blacklight Smart Bond Protection and Strengthening Concentrate is designed to strengthen, protect, detoxify and help repair hair while offering added benefits to the scalp.
Healthy SexyHair Tri-Wheat Leave-In Conditioner reduces breakage by up to 81 percent and improves detangling by up to 90 percent while taming frizz and flyaways. 
Lashes and brows need relief from summertime woes, too! RevitaLash Lash & Brow Masque Ultra-Reparative Treatment addresses compromised lashes and brows for the appearance of healthier, softer, shinier, more flexible hair.