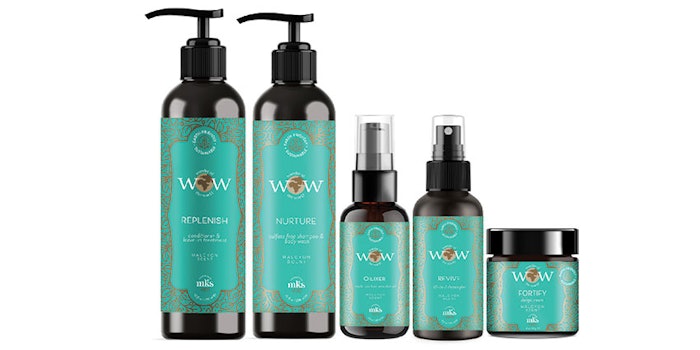 This month, Earthly Body is launching one of the cleanest and most eco-friendly professional beauty lines to hit the market: the WOW (Wonders of the World) collection. Each 100 percent vegan item within the five-piece line is sourced globally for its natural ingredients and botanical extracts. All products are created with an advanced clean formula that's free of sulfates, parabens, propylene glycol, gluten, mineral oil, petrolatum and artificial dyes. This new collection also utilizes sustainable packaging such as aluminum and glass, which can be reused for other purposes. Here, Beauty Launchpad sits down with the brand's founder, Kevin Wachs, to discuss this exciting endeavor.
Beauty Launchpad (BLP): What was the impetus behind this brand?
Kevin Wachs (KW): We wanted to take what we already do (natural ingredients, environmental activism) to the next level and be a pioneer in the clean beauty world. With our commitment to sustainable packaging (no plastic at all!) and our super clean ingredient list, we feel like we're leading the environmentally innovative pack of professional beauty brands.
BLP: What is the brand's ethos?
KW:"Saving the world one stylist at a time" is consistent with our overall message of activism in the form of small, yet significant, actions. In our case, one less single-use plastic bottle littering the beach is meaningful when multiplied by thousands.
BLP: How does this brand help serve beauty professionals?
KW: Our multipurpose products serve an array of functions that make this boutique line a space-saving, but effective, necessity for the salon.
BLP: Any "hero" products in the line?
KW: The two that really stand out are the Replenish Conditioner, as it can be used in the shower as well as afterward as a leave-in, as well as the Oilixir, which is remarkable in that it contains an effective ingredient that is a natural substitute for silicone—it's a therapeutic styler that's great for shine and smoothness.
The Goods
Check out the five products in the new WOW collection.
• Nurture Sulfate Free Shampoo and Body WashA nourishing blend of nutrient-rich oils with advanced clean ingredients makes this naturally derived formula ideal for a gentle wash that nurtures the hair and body.
• Replenish Conditioner and Leave-in Treatment This replenishing, naturally derived formula features a blend of rich, moisturizing oils and advanced cleaning ingredients to provide intense moisture.
• Revive Multipurpose 10- in -1 DetanglerA restorative combination of naturally derived advanced clean ingredients work together for an array of benefits.
• Fortify Design CreamThe flexible, protective cream is crafted with advanced clean ingredients that provide tresses with strong yet malleable hold.
• Oilixir Multi-Use Hair & Skin OilThis multipurpose naturally derived blend of globally sourced oils and advanced clean ingredients moisturizes, nurtures and imparts sleekness.
For more information on WOW, log on to www.earthlybody.com.