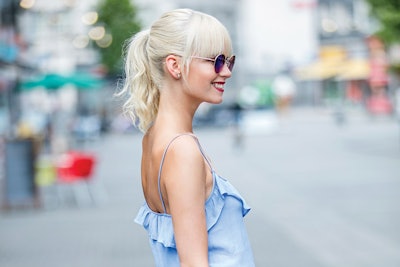 Summertime, and the living ain't easy when it comes to your client's hair and skin. Chlorine and saltwater wreak havoc on her strands, resulting in brassiness, color depletion, tangles, and buildup. Meanwhile, UV rays scorch skin, and repeated water exposure causes dermis to become dry and dull. Before she hits the sand, surf or pool, prime her for the elements with the proper beauty saviors.
Combat Brass
These blonde-boosting goods work to counteract the effects of chlorine, saltwater, hard water and sun.
"Chlorine gets absorbed into the hair shaft and strips it of its natural lubricant, sebum. Likewise, saltwater opens the hair cuticle and draws moisture out of the strand, causing dryness," informs Joshua Ladner, independent educator. "Brassiness is normally caused by salt or well water, which has the ability to open the cuticle and remove glaze/toner from colored hair, resulting in a yellow effect."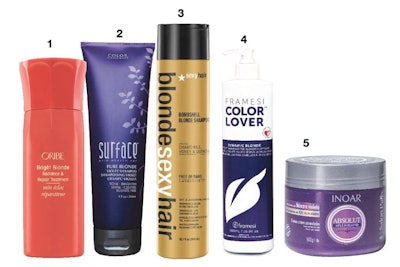 1) Elixir helps to prevent damage, brittleness and split ends as the formula's violet pigment keeps brass at bay. Oribe Bright Blonde Radiance & Repair Treatment 
2) Maqui berry provides a tinted base that counteracts brassiness and staves off free radical damage. Surface Pure Blonde Violet Shampoo 
3) Chamomile, honey and quinoa respectively aim to keep hair bright, moisturized and strong. Sexy Hair Blonde Sexy Hair Bombshell Blonde Shampoo 
RELATED: Make Your Balayage Results Pop with the "Money Piece"
4) Dark violet pigment offers powerful toning that makes color last as it halts brass. Framesi Color Lover Dynamic Blonde Shampoo 
5) Mask includes active antioxidants and a well-balanced pH to avoid discoloration and proffer intense sheen, flexibility and softness. Inoar Professional Absolut Speed Blond Mask
Tip: Remind clients to wet their hair in the shower before taking a dip in the pool or ocean to saturate strands and help avoid brassiness.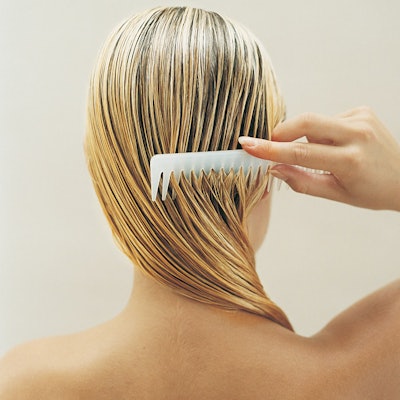 Prioritize Moisture
Just as the ocean and pool contribute to brassiness, so too do they deplete hair's vita moisture. Arm her with ultra-moisturizing products to revive dry locks.
"Since chlorine is a bleach it oxidizes the hair, lifting the cuticle and resulting in lost moisture," explains Missy Peterson, Malibu C education director. "And of course, saltwater leaches out moisture, leading to brittleness." Another cause of extreme dryness? The high pH levels in chlorine and saltwater. "The pH levels cause hair's cuticle to open and be susceptible to damage, making it easier for the underlying pigment to be exposed as well as causing major dryness," says Ladner.
RELATED: Top Colorists Reveal Their Favorite Trends for Music Festival Season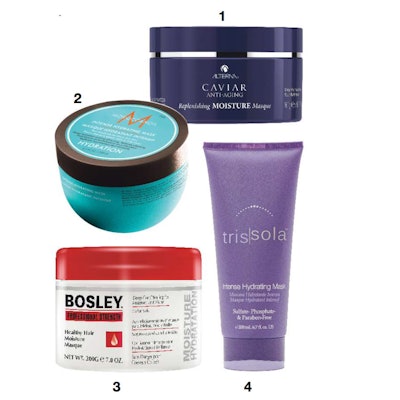 1) Formula is infused with patented Seasilk, Age-Control Complex, Enzymetherapy, and Color Hold along with UVA/UVB shields to deeply moisturize and combat the aging process while maintaining color integrity. Alterna Caviar Anti-Aging Replenishing Moisture Masque 
2) Antioxidant-rich argan oil in this rich, creamy deep conditioner designed for medium to thick hair moisturizes as it improves shine and manageability. Moroccanoil Intense Hydrating Mask 
3) A blend of mango and shea butters along with Brazilian palm tree and avocado oils quenches thirsty tresses. Bosley Professional Strength Healthy Hair Moisture Masque
4) Coconut and essential oils deeply penetrate locks for therapeutic results. Trissola Intense Hydrating Mask
RELATED: Top Colorists Reveal Their All-Time Favorite Shade Techniques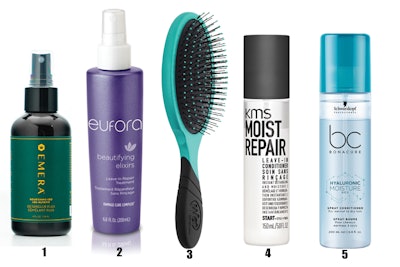 Undo Tangles
Snags in strands can lead to major damage. Post-swim, recommend that she use a detangler to nix errant knots.
"Lighter hair colors, along with chemically treated hair, are usually more prone to tangles," says Tim Dueñas, stylist at Nine Zero One salon in Los Angeles. "The cuticles of these hair types tend to be a bit weaker and more susceptible to damage."
1) Incorporating cannabidiol oil, the formula unsnarls as it supports hair vitality and color retention. EMERA Nourishing CBD Detangler Plus 
2) Leave-in prep spray combats knots via moisturizing meadowfoam seed extract and proprietary reparative Damage Cure Complex. Eufora Beautifying Elixirs Leave- In Repair Treatment 
3) Brush boasts a large cushion area that makes for quick detangling along with an exclusive AquaVent design for fast drainage and easy cleanup. WetBrush Pro Backbar Detangler 
4) Malic and lactic acids support strand strength and resist tangles. KMS Moistrepair Leave-in Conditioner
5) Lightweight emulsion delivers optimum moisture levels to boost tangle resilience. Schwarzkopf Professional BC Bonacure Hyaluronic Moisture Kick Spray Conditioner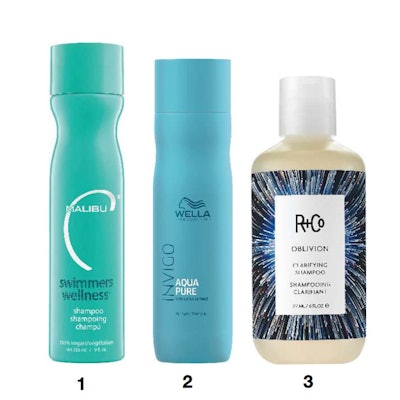 Stay Clear
Neutralize the grime-inducing effects of sea and pool water with purifying tonics.
To keep blondes bright during the sunniest of seasons, Dueñas advises that you remind all clients—even brunettes—to cover their hair as much as possible when in direct sunlight.
1) Ultra-mild 100-percent vegan cleanser is free of sulfates and harsh aggressors, yet effectively fends off chlorine's damaging effects. Malibu C Swimmers Wellness Shampoo 
2) Chock-full of revitalizing lotus extract, the shampoo lifts away dirt and impurities, including residual buildup and pollutants. Wella Professionals INVIGO Aqua Pure Shampoo 
3) Extra-gentle formula removes color-dulling residue caused by chlorine, hard water and styling products, plus boasts a refreshing lemon- and eucalyptus- infused fragrance to boot. R+Co OBLIVION Clarifying Shampoo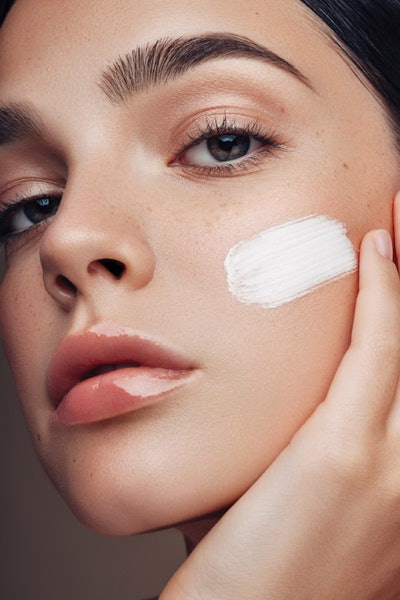 Salvage Skin
Of course, skin needs moisture post-swim and sun exposure too, as well as UV protection that should be de rigueur. These face and body helpers are designed to nourish dry dermis and/or impart UV defense.
If clients are unsure when the sun's rays are strongest (and hence, should spend limited time in direct sunlight), suggest that they practice the "shadow rule:" If your shadow is shorter than you, seek shade, as the sun is at its strongest levels of the day.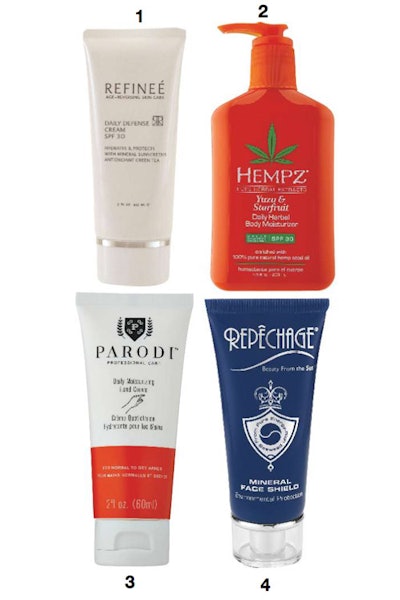 1) Minerals guard skin from UV assault as green tea extract lends antioxidant benefits. Refineé Daily Defense Cream SPF 30 
2) Lightweight daily moisturizer improves skin's overall appearance as it rails against sun damage thanks to SPF 30 protection. Hempz Yuzu & Starfruit Daily Herbal Body Moisturizer 
3) Formulated with proprietary HypeauPro, the concentrated moisturizer ensures hands stay supple despite repeated water exposure. Parodi Daily Moisturizing Hand Cream 
4) Formula imparts an even, matte finish prior to makeup prep as zinc oxide forms a physical barrier against UV rays. Repêchage Mineral Face Shield 
This story first appeared in the May issue of Beauty Launchpad magazine. To receive the magazine, click here to subscribe.
[Image: Courtesy of manufacturers; Getty Images]