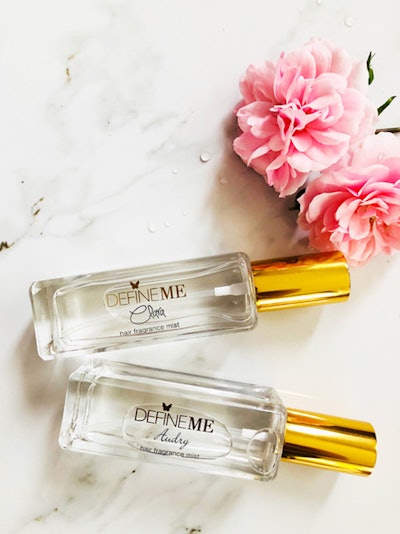 DefineMe Fragrance, known for its collection of award-winning scents that embody inspirational personalities, has just launched a series of amazing hair fragrance mists. These mists are made with coconut oil, chamomile extract, B5 and aloe vera, and like the brand's other products, they are available in six fun and different scents. Whether you're a free spirit like Sofia Isabel or empowered by love like Audry, there is something for everyone. To determine which scent is best for you, take their fragrance quiz. All of their fragrances can be layered to create customized scents, and they are vegan and cruelty-free.
Launchpad had the chance to chat with founder and CEO Jennifer Mckay Newton, who shared the inspiration behind her line, the positive message behind each of her scents, and much more.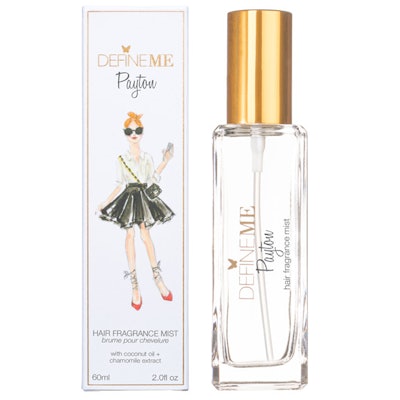 LAUNCHPAD: What does DefineMe mean?
Each of our scents holds a positive message behind it. For example, Payton is about inspiring strength and passion, so the 'DefineMe' is about defining yourself in positive ways: I'm strong, I'm loved, I'm fearless, I'm creative, I'm grateful and I'm a free spirit.
LAUNCHPAD: What inspired the brand's creation?
Growing up, I struggled with self-esteem and feeling a lot of uncertainty about who I was. It's something I see quite often in women, especially younger women from their early teens to their thirties. I wanted to help other women feel empowered through loving and supporting messages built into the fragrances.
LAUNCHPAD: Tell us about your journey in the industry.
I was an interior designer for about 15 years; I was feeling burnt-out and uninspired. I wanted to do something to help make a difference in people's lives. In 2009, I launched a company called Pure Designs For Living. One of the products I created were Blessing Boxes—they were a kit for people to send blessings on special occasions. One of the items in the boxes were soy candles, so I began experimenting and working with blending the candle scents. I quickly fell in love doing this and created a line of candles called I AM: I AM LOVED, I AM FEARLESS, etc. Customers would tell me that the candles made them feel good when they burned them, and I became fascinated with the connection between scent and well-being. I decided to create a line of fragrances for women that was about empowering them to help promote their well-being and feeling good about themselves—something I had struggled with. (Fun Fact: The olfactory receptors are directly connected to our limbic system, the emotional center of our brain. When you smell DefineMe fragrances, the scent which embodies positive messages travels directly to your emotions center, acting as an empowering affirmation.)
I knew nothing about the fragrance of beauty industry—I came into this green! I'm self-taught, I started with fragrance oil kits and blended and experimented for four years before I launched DefineMe in 2015. I finally had my first five scents, which had no alcohol, were roller ball oils and only blended with coconut oil. I wanted to use a natural alternative as a base and not a dipropylene glycol. I began selling th local LA markets to see if people liked the scents, to see if they 'got' the concept, and to see if the price point worked. I didn't launch in a big way, I started from the bottom up and worked in the trenches (so to speak!) After six months of testing the market, I felt like I had something good on my hands. I thought could make something wonderful out of this—I found my passion.
LAUNCHPAD: Were the fragrances inspired by real people?
The names are actually the last part in creating the scent. It starts with intention. For instance, let's say I want the scent to smell like and inspire love. What would 'love' smell like? It would smell like a bright, beautiful bouquet of roses and peonies! Then I ask, who would wear this scent? Audry would wear this scent. That's pretty much how it works. There is one exception: Sofia Isabel, she's my daughter and that was her favorite scent. So I named that one after her. We have a couple of what I call 'tomboy scents.' I wanted to use names that could be for a guy or a girl, so Payton and Harper are our tomboy scents.
LAUNCHPAD: Tell us about your products.
We have our version of an ODP which has organic sugar cane alcohol and we also use coconut oil in it, which helps it last and takes the alcohol edge off. They come in both large and on-the-go sizes. We also have our new Hair Fragrance Mists—we wanted to do something amazing that you can use to freshen up your hair in between blowouts and not mess it up. They have chamomile extract (nourishing), provitamin B (shine and silkiness), aloe (shine, nourishing) and coconut oil (nourishing). We use the same organic sugarcane alcohol—it's really fabulous and I'm personally very proud of this formula. 
We also have our original fragrance oils with coconut oil—they come in a single bottle or you can buy them in a variety of kits. We're a millennial brand, we're vegan and cruelty-free (certified by PETA and on Logical Harmony's list), our scents are blendable, we prioritize adding natural and organic ingredients where we can, and we have a giving back program at the core of it. For every bottle of fragrance purchased, we donate $1 to She's the First, a non-profit who gives scholarships to girls in low-income countries. We've been doing this since day one and my entire team takes a lot of pride in this. 
LAUNCHPAD: Any future plans for the brand?
Oh yes! We're going to start launching our bath and body collection in 2018, and a new scent as well!
To purchase, visit Ulta.com or the brand's official site.