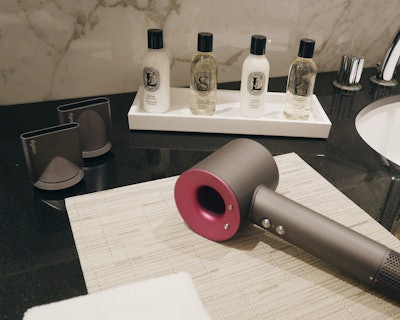 Waldorf Astoria Beverly Hills announced an official partnership with Dyson to become the first hotel in Southern California to offer use of the new Dyson Supersonic hair dryer to guests staying at the luxury hotel. The Dyson Supersonic hair dryer is engineered for balance in the hand, uses a fast-yet-focused airflow, and intelligently controls temperature to help prevent extreme heat damage and protect natural shine.
"We're incredibly excited about our partnership with Dyson. It is yet another way the hotel provides guests with the best of the best, and these state-of-the-art hair dryers are the latest added amenity," said Vanessa Williams, Director of Sales and Marketing at Waldorf Astoria Beverly Hills. "Our team of luxury hospitality experts is consistently envisioning what guests need and want, and the Dyson Supersonic hair dryer is a favorite among affluent travelers."
The partnership with a leading-brand such as Dyson allows the hotel to further equip guests with the latest in technology offerings and add yet another luxury amenity to the Waldorf Astoria Beverly Hills experience.
Dyson invested $71 million in the development of the Dyson Supersonic hair dryer, creating a state of the art laboratory dedicated to investigating the science of hair. Dyson engineers studied hair from root to tip, understanding how it reacts to stresses, how to keep it healthy, and how to style it. For over four years they tested the product on different hair types.
The Dyson Supersonic hair dryer, priced at $399.99, is powered by the new, patented Dyson digital motor V9, created in-house by a team of more than 15 motor engineers specifically for this machine. It is Dyson's smallest, lightest, and most advanced digital motor – on average six times faster, one third of the weight, and half the size of other hair dryer motors. The Dyson Supersonic hair dryer has intelligent heat control, helping to ensure hair isn't exposed to excessive heat, never goes above the temperature selected, and uses Dyson's patented Air Multiplier technology to draw air into the motor and amplify it threefold to create a high pressure, focused jet of air for controlled, precise drying and styling.
Well-known celebrity stylist, Tracey Cunningham, was also on hand to talk about the dryer. She said that while she is not a Dyson spokesperson, she uses the dryer on all her clients because of its incredible sleekness and drying speed.
As of November 2017, Waldorf Astoria Beverly Hills will offer Dyson Supersonic hair dryers for guest use.
[Image courtesy of Dyson]