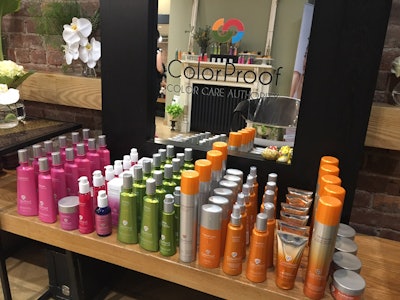 Working with clients who are experiencing hair loss can be emotional; you want to aid in re-growth but there's no clear solution. Jim Markham, the iconic hairstylist, as well as the Founder of—and Product Developer for—ColorProof Evolved Color Care, set out to address this silent epidemic, which affects a staggering 40% of women, yet is hugely unaddressed. BioRepair-8TM, which just launched at the beginning of the month, is specifically formulated for those with color-treated tresses—consider this your new rescue regimen to help with thinning hair.
The repairing line, which consists of a shampoo, conditioner, stem cell scalp serum and scalp exfoliating brush, targets the four main causes of hair loss. These consist of an increase in DHT production, microcirculation, stem cell aging and failure to "hair anchor." Rising levels of the DHT hormone, which shrinks follicles, can cause thin or atrophied hair that may eventually stop coming in altogether. Poor microcirculation, leads to the buildup of sebum; eventually an excess of sebum will cover the follicle, making it impossible for new growth to breakthrough. Stem cells are responsible for carrying the code to grow hair, however these cells are more apt to fail as we age; this results in graying and thinning. Finally, with a "failure to anchor," the scalp tissue is unable to support hair properly, leading to fall out.
BioRepair-8TM takes these diverse issues into account and addresses the root of the problem using key ingredients. As the name suggests, there are eight crucial compounds on the path to repair, including alpha hydroxy acids, apple and grape (AG) stem cell complex, biotin and copper peptides, phytonutrients and vitamins, KeravisTM and soy proteins, and the Advanced Colorlast SystemTM for UVA/UVB color and heat protection.
 "Women have thinning hair that's usually across the top," Markham explains of the difference between men's and women's hair loss. The three-step system is specifically formulated for women, though it would also work on men. After a period in trials, the kit has had amazing responses—there is hair re-growth in as little as two-weeks, courtesy of the eight DHT blockers. These blockers function to "neutralize the situation," says Markham.
"Having been in the business for a long time, clients were always asking me if we had anything for thinning hair. Up until now, we had not," he explains. "It's an area we wanted to jump into, we knew we'd make a difference and we were surprised that we could make such big a difference. We're really happy about that," he adds. The products took nearly two years to develop and were sourced from some of the top ingredients on the market. As Markham tells us, it's the "newest technology combined with the best technology."
[Images courtesy of Emilie Branch]