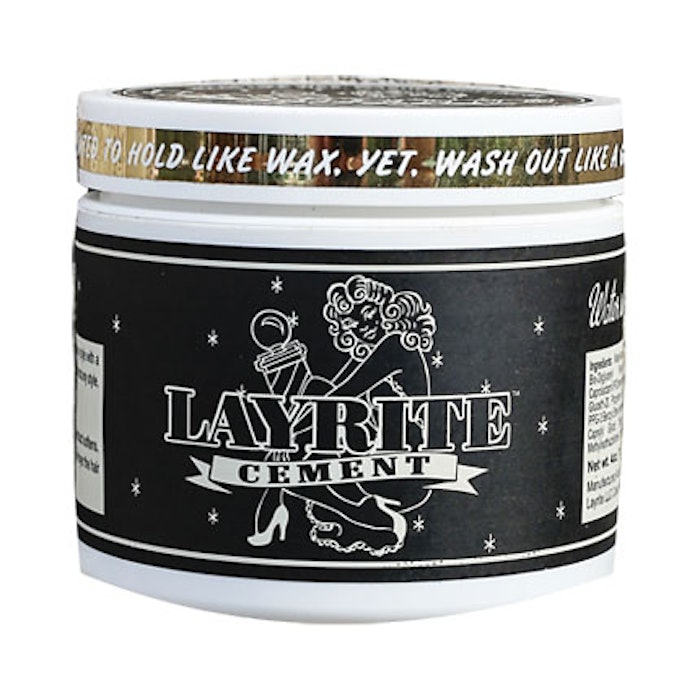 Layrite, a California-based men's grooming company, recently announced the launch of its latest styling product: the new Cement Hair Clay. Like all Layrite products, this new high-hold, water-based styling clay was developed with the consumer in mind, delivering a clean, matte finish that lasts throughout the day. A perfect balance of select polymers and waxes with extremely low oil content combine to act like cement, delivering intense hold with a natural, low-shine finish. Unlike other formulas that can weigh hair down by coating it, this formula binds individual hairs together, adding thickness and shape that allows for tousled, textured looks or defined volume and fullness. The pliable nature of Cement Hair Clay allows men to rework their style throughout the day, so they can easily transition from one look to the next.

How to Use:
Rub a small amount of Cement thoroughly between palms until product softens.
Distribute evenly through damp or dry hair and style as desired.
The drier the hair, the higher the hold and more matte the finish.

Cement Hair Clay is water soluble, doesn't flake, and comes in Layrite's signature mild vanilla scent. Not just for men, it's also perfect for keeping a ponytail or braid in place, or for taming frizz and fly-aways.

[Image courtesy of Creative Media Marketing]