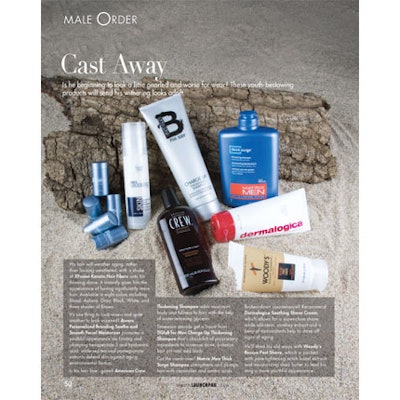 Is he beginning to look a little gnarled and worse for wear? These youth-bestowing products will send his withering looks adrift.
His hair will weather aging, rather than looking weathered, with a shake of XFusion Keratin Hair Fibers onto his thinning dome. It instantly gives him the appearance of having significantly more hair. Available in eight colors including Blond, Auburn, Gray, Black, White, and three shades of Brown.
It's one thing to look wise—and quite another to look wizened! Aware Personalized Branding Soothe and Smooth Facial Moisturizer promotes a youthful appearance via firming and plumping hexapeptide-3 and hyaluronic acid, while red tea and pomegranate extracts defend skin against aging environmental factors.
Is his hair bye...gone? American Crew Thickening Shampoo adds maximum body and fullness to hair with the help of water-retaining glycerin.
Timeworn strands get a boost from TIGIsB for Men Charge Up Thickening Shampoo that's chock-full of proprietary ingredients to increase shine, balance hair pH and add body.
Cut the comb-over! Matrix Men Thick Surge Shampoo strengthens and plumps hair with ceramides and amino acids.
Broken-down countenance? Recommend Dermalogica Soothing Shave Cream, which allows for a super-close shave while allantoin, comfrey extract and a bevy of antioxidants help to stave off signs of aging.
He'll shed his old ways with Woody's Rescue Post Shave, which is packed with pore-tightening witch hazel extract and moisturizing shea butter to lend his mug a more youthful appearance.