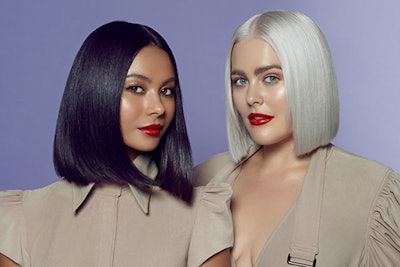 Stylists can now broaden their color palette with new Violet and Blue shades from the Paul Mitchell bestselling color line, The Demi. These five hues provide true violet and blue ash undertones, ranging from cool blonde to the richest blue black. Stylists can intermix to create unique tone or use alone and experience the beauty of the individual shades – all with exceptional condition and shine for healthy-looking hair.
"You can expect the same shine, vibrancy and consistency you always get from Paul Mitchell The Demi. These tones are on trend and they work right out of the bottle! Add them to any shade (except for Muted Metallics) to add coolness and depth to any formula. Get creative and see where it takes you," says Colin Caruso, Artistic Director of Paul Mitchell Professional Hair Color.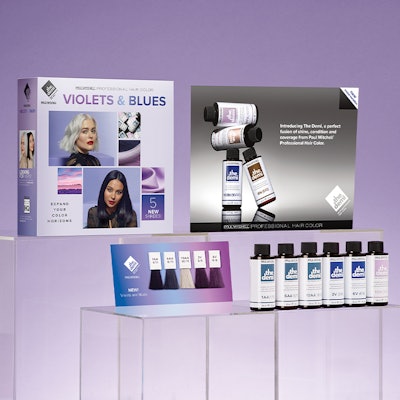 5 NEW Shades
The Demi 1AA
The Demi 6AA
The Demi 10AA
The Demi 3V
The Demi 6V
Paraben Free, Gluten Free, Nut Free and Vegan - The new Ash Ash family is blue based for controlling warmth, and the new Violet Shades provide depth and a beautiful violet cast to the hair.
Paul Mitchell The Demi Violets and Blues will be available beginning March 2020.
More About Paul Mitchell The Demi
A demi-permanent hair color that conditions while it colors, The Demi delivers incredibly rich results with exceptional shine. With gentle conditioning and no ammonia, the versatile formula sets the standard for precise performance and quick color services.
Over 40 Shades
Opaque, easy-to-formulate shades that last up to 4-6 weeks.
Deposit-only, no ammonia, exceedingly gentle color offers outstanding condition and shine.
Liquid color mixes to a perfect gel consistency, ideal for bottle and no-drip brush application.
Best for colorists who want intermixable, deposit-only color that can be opaque or translucent (by adding Clear).
[Images: Courtesy of Paul Mitchell]