Lakme is launching the new Chroma, with 22 brand new shades and 16 inspired shades, ranging from every day, wearable trends to fun, vibrant fashion shades. The all-new Chroma breaks down the boundaries of color creation, affording the stylist the ability for maximum artistry and creativity. With an easy swap in developer, Chroma can be utilized as permanent or demi-permanent color, for ultimate versatility and unlimited options.
Enhanced with OF5 high-performance technology, a molecule derived from plant fiber, Chroma's dermatologically tested, ammonia-free formula offers cutting-edge technology, 100% coverage, intense shine, and long-lasting color for soft, vibrant, healthy, touchable hair.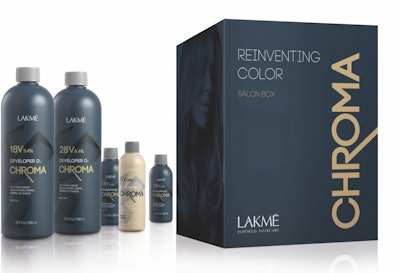 Also launching during this revolutionary new era for Lakme is the Chroma in-salon box, complete with the Freedom Collection, a step-by-step education guide for cutting-edge and on-trend techniques that will take the stylist's skillset to the next level: created for stylists by stylists. Featuring looks such as the Tiger Eye, it is evident that versatility has met its match with Chroma, affording stylists the ability to create and personalize techniques for premium client satisfaction.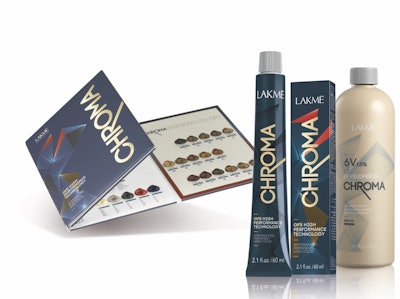 The Chroma in-salon box boasts all of the tools necessary for the stylist to explore and maximize their artistic potential and creativity. Ranging from in-salon marketing support to tools for use behind the chair, to specialized inspiring shades, this high-performance color line is perfect for all hair types, and will be a favorite for stylists due to ease of use, safer, more natural ingredients and technology that helps nourish the hair fiber and protect the scalp for maximum conditioning and comfort in coloring. Chroma: the reinvention of hair color is finally here.
[Images and video courtesy of Lakme]