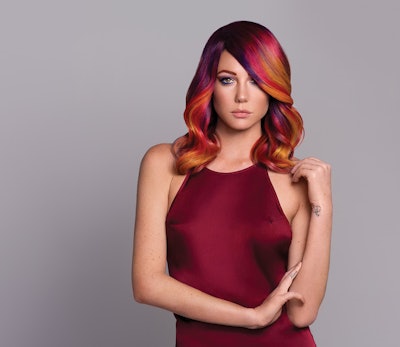 Keratin Complex launches its first color line, available May 1st.
To celebrate the launch of their Keratin Complex Color line, the brand hosted a colorful fête at The Dream Hotel's Fishbowl Bar, Lounge & Game Room in New York City. A sketch artist was on hand to draw guests with the rainbow-haired hue of their choice, which was way more personal than any filter. To really get attendees prepped for crayon locks, wigs in all colors and lengths were on-hand as photobooth props. A sand art station and skeeball also provided entertainment, and proved to be the perfect activities after sipping Prosecco, available in every shade of the rainbow!
Keratin Complex Color stands apart in a sea of dye options because their formulas are keratin-infused. With KeraLuminous, a permanent cream hair color, KeraBrilliance, which is a demi-perm, and GraffitGlam, a semi-permanent haircolor in ten shades—plus clear, there's something for every client. There are three steps to Keratin Complex Color, which the brand's Director of Marketing likens to "building a house."
Keratin and ceramides initially saturate strands, getting hair in a healthy place so that concentrated micronized pigments are evenly distributed. A natural BotanicalPowerblend™ follows, with ingredients like coconut oil, aloe and acai giving major shine. To make sure that at-home up-keep is on point (after a day of adding color into their lives) guests left with Keratin Complex's Color Therapy Timeless Color Fade-Defy Shampoo and Conditioner, as well as Infusion Therapy Keratin Replenisher, to deliver crucial moisture deep down into the cuticle—and, you guessed it, extend that brilliant color.
[Images courtesy of Keratin Complex]