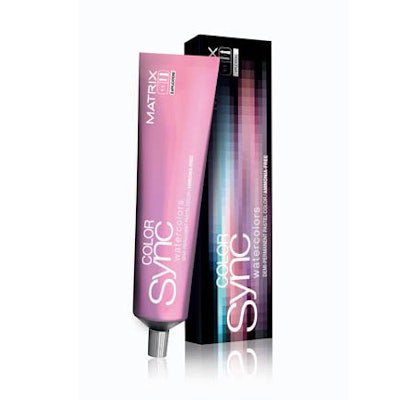 With warmer days just around the corner, clients are looking now more than ever to switch up their look with fun colors. From mermaid and unicorn hair, to oh-so-pretty pastels, summer is the time for dreamy, sun-washed hues. To help you achieve this on-trend hair colors for your clients, Matrix is launching its new Color Sync Watercolors - 5 new, light-catching, long-lasting shades. Just like with actual watercolor paints, Color Sync Watercolors can be used "full strength," or diluted with Color Sync Clear to reduce intensity for nearly endless, completely customizable looks.
The new Watercolor shades include:
Moss Green - a delicate, silvery green
Sapphire Blue — a cool, cobalt blue
Berry Violet — a lovely lavender
Quartz Pink — a subtle, antique pink
Coral Peach — a light, dusty orange
Stylists can combine these shades with the existing Color Sync palette to add new and exciting hues to their color portfolios. Along with the new Watercolors, stylists will receive four new techniques to inspire and energize their color services. Created by top global Matrix artists Chrystofer Benson, Steve English and Mila Belova, the techniques — Quartz Dip Dye, Watercolor Waterfall, Marble Accent and Mermaid Melt — will continue to fuel the creative color movement among stylists and their clients.  
Additionally, Matrix has developed an innovative new tool to support these, and other Watercolor techniques. The new Matrix ColorBlender Sponge produces subtle transitions, diffused lines, graduated color effects, controlled shapes and natural balayage results, and it's also ideal for dry brushing. It features a pointed tip for application control, a lipstick edge for easy product access from the tint bowl, a rounded bottom for diffusion techniques and a rounded handle for optimum comfort.
The new Matrix Color Sync Watercolors will be in Matrix Salons in June, 2016.