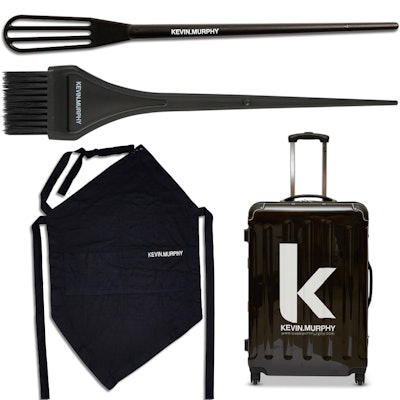 COLOR.ME by KEVIN.MURPHY has announced the launch of new specialty color tools designed to allow colorists and salons greater ease, increased precision, and more storage and protection while coloring, all with sleek, simple packaging and design. The launch includes a new streamlined whisk (top), a smaller application brush (featuring a 1.5-inch brush head and premium bristles), branded apron (bottom, left), color rack (not pictured) and stylist cases (bottom, right).
"I'm excited about these new tools specially designed with colorists and color salons in mind," says Kate Reid, COLOR.ME Director of Education North America. "The standout for me is the small color brush. This application brush is ideal for intricate work - like 'babylights' - and also for high-lift blonde application. Global blonde application is a huge trend for 2016 and this new small brush allows for fine touch-ups on new re-growth with less chance of color overlapping. This keeps the color even and keeps from unnecessarily damaging hair in areas of potential overlap."
In addition to the new smaller brush, the launch's new whisk features a sleek, ergonomic design for efficient color mixing and a new flat design that wastes less color than traditional whisk shapes. Designed especially for colorists, the new high-quality apron is made of color-resistant, durable navy canvas with a flattering bias cut and spacious pocket, and the sleek acrylic color rack with individual shelving units is ideal for storage, organization and easy in-salon customization. Meanwhile, for colorists, stylists and educators on-the-go, there are chic new stylist cases for transporting products and tools. The black lacquered rolling case features a branded exterior constructed of durable polycarbonate. The large provides enough space to store the entire COLOR.ME line while still compact enough to easily fit into a standard car trunk. The small is carry-on friendly for quick trips. Interior cushions offer gentle padding to minimize product damage and inner pockets and straps help secure contents in place. A telescoping handle, convenient side grips and multi-directional wheels ensure smooth rolling and easy maneuvering, and a TSA-approved zipper lock offers safe and secure travel.
The new COLOR.ME tools will be available for salons in May (apron, whisk and stylist cases) and June (color rack and small brush) 2016. For more information about COLOR.ME by KEVIN.MURPHY, please visit www.ColorMeByKM.com.