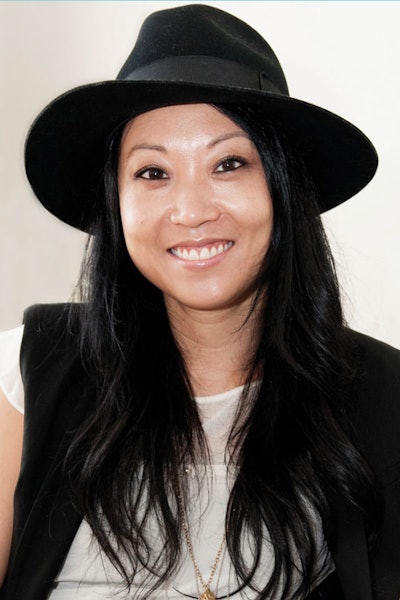 Editorial makeup artist Anne Kohlhagen denies having a makeup "philosophy," because that would define her—and she's not about definitions. "I'm in a continual state of learning and growing as an artist. I think this kind of exploratory journey is important so that one doesn't get stagnant," she explains. Of course, when you count Vogue, Interview and Harper's Bazaar among your clients, you're definitely getting hired because of that "something special." For Kohlhagen, it's her keen eye for bold, graphic elements (think: knifelike edges and interesting shapes) and her marrying of dissimilar textures (say, an unexpected mix of matte and gloss). But when it comes down to it, "I'm all about dewy skin and a graphic eye," Kohhagen says. "I don't use a lot of color, so creating sharp lines is usually where my focus is. I absolutely love line work." Here, she breaks down the kit essentials that keep her beauty work in line with her continuing evolution.
RELATED: In My Kit - Makeup Artist Danessa Myricks

1) For Born-With-It Illumination - Glossier Haloscope in Topaz and Quartz: "The dewy texture pushes into the skin to give a perfect, non-glittery glow that reads beautiful both in person and on camera. I use them on cheekbones, eyelids, the bridge of the nose and the Cupid's bow."
2) For a Clean Canvas - Bioderma Sensibio H20 Miceller Water: "Skin prep is the building block for your entire makeup routine. No matter the job, I always use this to gently remove any leftover makeup, oil, debris, etc. without causing irritation."
RELATED: In My Kit - Makeup Artist Tim Quinn
3) For a Versatile Neutral Eye - Tom Ford Beauty Eye Quad in Cocoa Mirage: "This palette has the best mix of natural shadows to create an amazing neutral eye that can work for both editorial and commercial work."
4) For Concentrated Coverage - NARS Soft Matte Complete Concealers: "A concealer that goes on smoothly without looking too overdone is a must for fresh-looking skin. These highly concentrated concealers cover even the toughest marks awlessly. A little goes a long way, so besides having a great color range, the product lasts for ages."
5) For Every Shade of Flush - Senna Cosmetics Mini Slipcover Cream to Powder Palette in Glow 1 and Glow 2: "Their creamy texture disappears into the skin with a soft, velvety nish that makes cheeks look fresh and naturally ushed. Plus, their condensed size houses a full range of shades without taking up too much space in my kit."
This story first appeared in the January/February issue of Eyelash magazine. To receive the magazine, click here to subscribe.
[Images: Courtesy of Anne Kohlhagen; manufacturers]