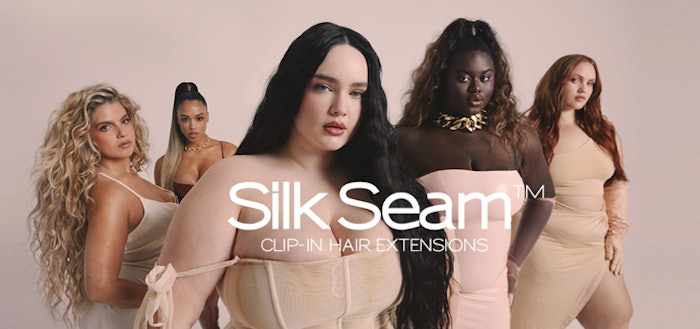 Courtesy of BELLAMI
BELLAMI, the global leader in hair extensions, announces its new visual identity for its direct-to-consumer product line alongside the launch of its Fall 2023 Silk Seam clip-in hair extensions.
The new branding will appear in all marketing communications efforts.
Celebrity Hairstylist Andrew Fitzsimons will be leading the creative direction of the launch campaign in partnership with BELLAMI's executive team along with distinguished Fashion Photographer Greg Swales and some of the world's most creative talent in fashion and makeup.
"I've been using BELLAMI Hair Extensions on my clients for a long time. They are the best of the best – from the quality to the range of colors, lengths, and textures," says Fitzsimons. "With this new vision, I want to bring to life the brand's personality and welcome everyone - of all shapes, sizes, colors, and hair textures - into our world. Together we are going to change the narrative when it comes to how consumers perceive hair and beauty. When they see BELLAMI, they will see themselves. We want our customers to know that they are beautiful as they are, but that they can still have fun and play with hair extensions the same way they would with jewelry, fashion, accessories, and makeup."
Rounding out the BELLAMI Silk Seam Clip-In Hair Extensions collection, of what is now 44, with 5 new exclusive shades, in a wide range of textures and lengths, the launch campaign embodies a modern, edgy, and fashion-forward twist that ties in an earthy color palette to underscore the brand values of diversity and inclusivity, while echoing its focus on ethical sourcing and sustainable production.
"BELLAMI launched with one of the first DIY Clip-In Hair Extensions in the world, making it easy to express yourself and have fun with hair, while still celebrating your own individual uniqueness. This new campaign is bringing us back to our roots, and Andrew is the perfect person to breathe life into our mission," says BELLAMI VP of Marketing Laure Murciano. "As the leader in our category, it is our role to embrace diversity and the new beauty standards. Andrew not only understands who we are and where we want to be, but for years, Andrew has been inspiring people around the world through his work, and we know he will do the same with this campaign."
BELLAMI's mission is to rebuild the visual identity of the Direct-to-Consumer brand portfolio, bringing the brand back to its roots and elevating its position within the ready-to-wear hair extension category which is projected to reach $1.3B by 2025.