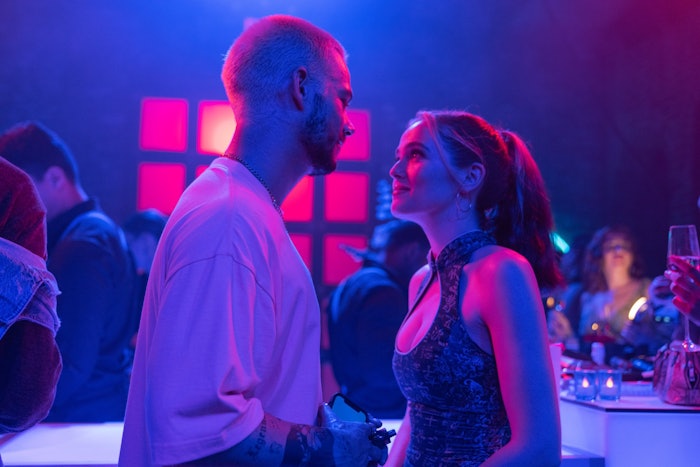 Photo by Nicole Rivelli. Courtesy of Searchlight Pictures. 2022 20th Century Studios All Rights Reserved
Celebrity hairstylist Cynthia Vanis created the hair looks for the characters that Zoey Deutch and Dylan O'Brien portrayed in Hulu's movie, Not Okay.
The looks for the film were based on current and '90s/Y2K hair. Vanis received a large amount of input from Deutch about her vision for the character's hair.
In addition, Vanis dyed Dylan O'Brien's hair blonde, in a viral video, for his role. The video received close to 3 million likes and almost 14 million views.
 Here's what Vanis had to say about her time on set:
1. What was it like working on the set, and with Dylan? 
This set was particularly special because they made a point to make sure diversity among the departments was a priority. We also had a young female director, which was amazing. Zoey is extremely talented and detail-oriented, which made collaborating with her so much fun. 
As for Dylan, I didn't even know who he was before this film and now, I will never forget him. The first day I met him, he was walking up with his dog and the paparazzi took a picture of Zoey petting him. He said as he walked into the trailer to look toward the camera next time and he might end up in a magazine, not realizing it was Dylan because he was in a mask and baseball hat. We had a good laugh at that. 
Bleaching his hair blonde really made a lot of people take note of my work. Dylan is also just the loveliest human, so I can see why everyone loves him. 
2. What products were used on set?
For Zoey, we needed to make sure to keep her hair extra healthy with those bleached pieces in front. We used In Common Beauty Magic Myst, Ouai Heat Protector, MAY11 Blonde hair oil in the front and THIC hair oil, which I actually found and fell in love with from an Instagram influencer. We flat ironed her dark hair a lot, but I didn't want to put that kind of heat on her front blonde pieces so I used the Dyson Air Wrap for those front pieces of her hair. It felt safer on those fragile bits. 
3. Can you provide details on the prep and dying process? 
I got a text from Quinn Shephard, our director, saying that Dylan wanted to dye his hair blonde. It was his idea and he wanted to fully immerse into his character. I didn't know if he already had a stylist in mind for this, so Quinn put us in contact and I asked Dylan if he wanted me to do his hair. 
He had never dyed his hair before so we texted and decided I would take care of his transformation. At the time I didn't know that it would be such a huge deal. I showed him a few inspiration pictures and then we just went for it. We had to bleach it twice because his natural hair is so dark. Then, we toned it with Redken Shades EQ. 
It was so crazy because they wanted us to make a TikTok of the process and people lost their minds over it.