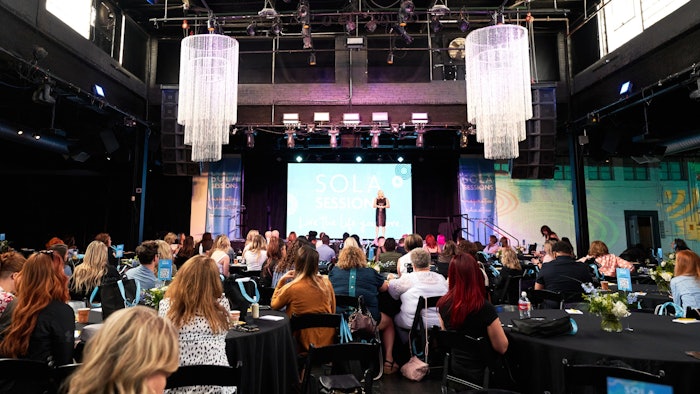 Courtesy of Sola Salons
Sola Salons hosted its first live event since 2020 and its largest educational event, Sola Sessions, on May 15-17, 2022, in Denver.
The three-day event, exclusive to Sola professionals, featured 13 of the beauty industry's educators and change-makers.
Sola Sessions offered hands-on workshops, panel discussions, engaging roundtables, expert speakers and a vendor expo.
The keynote address was given by award-winning entertainer, lecturer and comedian Dr. Bertice Berry, who was sponsored by SalonCentric. Other top speakers included hairstylist, salon owner and educator Yene Damtew; Thrivers Society CEO and founder Britt Seva; and podcaster, educator and hairstylist Dawn Bradley.
The Sola Sessions Platinum package included a Create and Connect Experience and Welcome Party; attendance to the Sola Sessions event; and a workshop with Dawn Bradley. 
"Since inception, our mission to provide our Sola professionals with the education and inspiration they need to have long-lasting and successful careers in the beauty salon space has been our highest priority," says Rachel Vaughn, vice president of marketing at Sola Salons. "After two consecutive virtual Sola Sessions and being separated from our family of Sola professionals, we couldn't be happier to finally have everyone back together in person to connect and learn from the industry's top educators. Hosting this first-ever, three-day Sola Sessions event in our hometown of Denver left our professionals feeling reinvigorated and ready to achieve the goals they've set for their business."