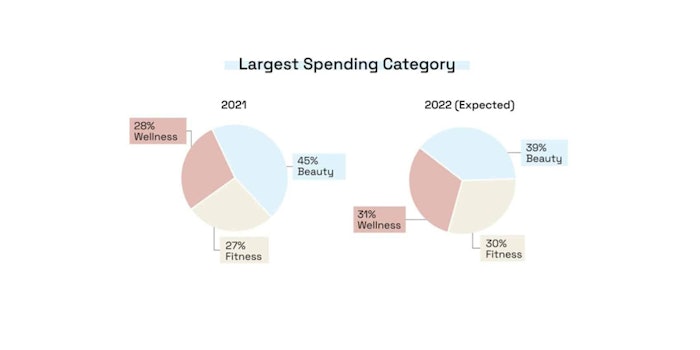 Courtesy of StyleSeat
StyleSeat surveyed 1,400 Americans to find out what they buy and how much they spend to maintain their beauty, fitness and wellness routines.
The following list provides some examples of the kinds of products and services in each category:
Beauty: Hair, skin, makeup, nails, hair removal, teeth whitening
Fitness: Gym memberships, studio classes, workout equipment, fitness apparel, vitamins and supplements
Wellness: Mental health services, sleep aids, meditation tools, bodywork
The survey revealed:
Americans spend an average of $110 a month on beauty, fitness and wellness.
Of these categories, Americans spend the most on three things: vitamins and supplements, haircuts and skin care.
Of all respondents, 60 percent know someone who spends more money on beauty, fitness and wellness than they can afford.
In fact, 71 percent of respondents do not plan to cut back on wellness spending despite inflation.
Although respondents expect beauty spending to decrease this year, they expect fitness and wellness spending to increase.
Americans do not spend equally monthly across all categories: beauty ($46), fitness ($34) and wellness ($30). 
View the full survey here.