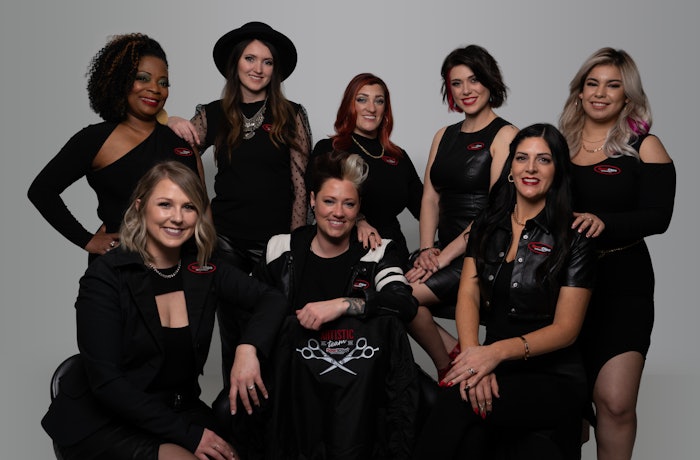 Courtesy of Sport Clips
Sport Clips Haircuts has added four stylists to its nationally recognized artistic team.
The team launched in 2014 to travel to beauty schools and major hair shows, representing Sport Clips on stage and in classrooms to educate aspiring and current hair professionals.
New team members include:
Meghan Blanchette of Simsbury, Connecticut, a recipient of the Sport Clips "People's Choice Coach Award" and TikTok content creator. Since 2015, she has worked her way from stylist to assistant manager, manager, area coach, ambassador, and is among the new members joining the artistic team in 2022.
Mary-Jean Carrino of Wentzville, Missouri, is dedicated to her craft and has been with Sport Clips for more than a decade promoting through the ranks from store manager, area manager, area coach (educator) and now artistic team member.
Alexa Fernandez of Melbourne, Florida, comes from a long line of cosmetologists and is a former Sport Clips "Rookie Coach of the Year." She's in her eighth year as a beauty professional, working her way up from stylist to manager then coach before being selected for the artistic team.  
Claudia Thomas of The Colony, Texas, a former Sport Clips "Rookie Coach of the Year," came to Sport Clips as a coordinator while still in her high school's cosmetology program. As a licensed professional, she has worked for Sport Clips in management, ambassador and coach roles before being named an artistic team member. 
Tenured artistic team members include Brittany Burton of Carrollton, Texas, a stylist turned coach who is in her fourth year with the traveling squad and ninth year with Sport Clips; Dorothy-Anne Lacy of Sun City, Arizona, who also serves as an area coach and brand ambassador for Sport Clips, is in her second year on the team; Pauline Pryor of Indianapolis, an educator and brand ambassador, is in her third year on the team and thirteenth with Sport Clips; and licensed barber Frankie Perez of San Diego, a former Sport Clips "Coach of the Year" and "Best Barber of San Diego" is in her fourth year on the artistic team and marks her first decade with Sport Clips this year.